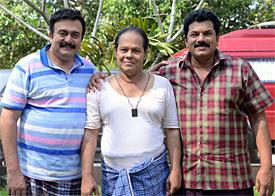 They first appeared in the cult comedy Ramji Rao Speaking, in 1989.

In 1995, they returned with Mannar Mathai Speaking.

Now, Mannar Mathai (Innocent), Gopalakrishnan (Mukesh) and Balakrishnan (Sai Kumar) are back once again with Mannar Mathai Speaking 2.

While the earlier versions were made by Siddique-Lal, the new film has been directed by Mamas of Paappi Appacha
and Cinema Company fame.
"In the earlier films they were unemployed and the humour came from that situation. In this film the drama company Urvashi Theatres has become Urvashi Tours and Travels. The three have grown older but their basic nature has not changed," says Mamas.
The cast also includes Vijayaraghavan, Biju Menon, Aparna Gopinath, Basil, Janaradhanan and Indrans.
Manar Mathai Speaking 2
, which releases today (January 24), has been produced under the banner of SJM Entertainments.
The cinematographer is Vishnu Narayan and the music has been composed by Rahul Raj.