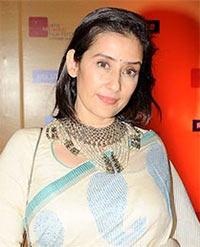 Manisha Koirala is slated to play Meena Kumari in a biopic that will be produced by the latter's step son Tajdar Amrohi.
This, in spite of the fact that Manisha and Shashilal Nair, who is directing the bio-pic, have a tumultuous history of conflict.
Nair and Manisha were close friends earlier; she had done one of her best films Grahan -- a film about rape -- with Nair.
In 2002, the two had a fall-out over the content of Ek Chotisi Love Story, a film about an adolescent's voyeuristic love for his beautiful neighbour.
Manisha accused Nair of doctoring the content and using a body double to do the intimate shots, and the got progressively ugly. Nair was apparently so disillusioned by the experience that he left Mumbai to settle down in England.
Until Tajdar Amrohi dragged him back to direct the Meena Kumari biopic.
"I could think of only two directors who could be on the same page as with me on this," says Tajdar. "My dear friend J P Dutta, who is busy with his own film. And Shashilal Nair. I like the work ethics of south Indian filmmakers, and I like Shashi's films like Angaar and Grahan.
"I have known Shashlilal Nair for years but we lost touch. I didn't know where he was in England. Still, I managed to track him down in Manchester and insisted that he accompany me back to India. He came back and we started work on the project immediately," he adds.
Creative differences cropped up immediately. Tajdar is keen on Manisha Koirala; Nair is reluctant for obvious reasons.
Furthermore, Nair wanted to tap into secondary information on Meena Kumari, available on the internet but Tajdar is vehemently opposed to this . "Why should we go to the internet to get information on my Choti Ammi when I've grown up with her, watched her from the closest quarters? I was one of the last people she spoke to before her untimely death. The internet is filled with misinformation about Choti Ammi's relationship with my father," he says.
Tajdar claims there will be four actresses playing Meena Kumari, from age six to 39, when she passed away.
The shooting for the biopic is currently on.