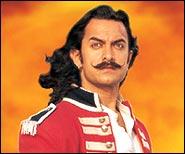 Yash Chopra today said that Mangal Pandey was not a freedom fighter and questioned the authenticity of descendants of the 1857 hero who have filed a suit for showing him in poor light in a film featuring Aamir Khan.
During a hearing of the case in Delhi High Court, Mukul Rohtagi, the counsel for Chopra, who is distributor of Mangal Pandey: The Rising, questioned the authenticity of the plaintiff duo's claim that they were descendents of Pandey and said he was not a freedom fighter.
Chopra's contention was refuted by the plaintiffs' counsel Hari, who showed a postal stamp issued in the name of Mangal Pandey by the Government of India in which he has been described as one.
Hearing the case, Justice O P Dwivedi adjourned the matter for November 8 as none of the defendants, except Chopra, had filed his reply to the suit. The court asked all other defendants to file their replies within two weeks and gave two more weeks to the plaintiffs to file their rejoinder. He, however, refused to pass any interim orders to stop the screening of the film, despite repeated requests from the plaintiffs' lawyer. Justice Dwivedi had earlier issued notices to the film's joint producers Bobby Bedi and Deepa Sahi, director Ketan Mehta, story writer Farooq Dhondy, distributor Yash Chopra, Aamir Khan and actress Rani Mukerji, asking them to file their replies by today.
Raghunath Pandey, Vice Principal of a Kendriya Vidyalaya and his son Omkar Nath Pandey -- descendants of the martyr's brother Lalit Pandey -- had filed a suit seeking an unconditional apology from all involved in the making of the film for allegedly showing Mangal Pandey as an alcoholic involved in a relationship with a prostitute. Originally hailing from Nagwa village in Ballia district of Uttar Pradesh, they accused the defendants of deliberately depicting sexuality and drama to make it a 'masala movie'.