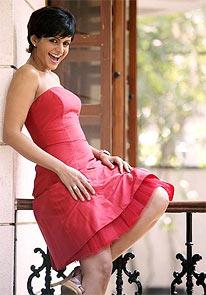 Actors and television host Mandira Bedi is excited about being a judge for the TV comedy show Gangs of Hasseepur. Co-judge is actress Tanishaa Mukherjee. Actress Ragini Khanna will host the show.
Mandira has been a judge for Funjabi Chak De and Laughter Knights earlier with Navjot Singh Sidhu.
"The good thing about this show is that it has a nice, fluid format. It's topical and there is something new for everyone.
"In Raju Srivastav's segment he portrays different characters while another segment has a couple of sketches and skits like 'Sawaal pe bawaal'," says Mandira.
Gangs of Hasseepur is supposed to reflect various issues of common people's lives in a comic way.
"I have lived my life with an eye for the funny. I feel a natural connect with comedy," says Mandira. "I think it's a blessed job being a judge as I have to sit, laugh and enjoy. I have hosted lots of shows, and this is a nice one to do," she added
Mandira is all praise for the actors in the show.
"Raju is so versatile. Whenever he is enacting a character; you can relate it to the real life one. I think he is incredibly talented.
"I also love what Bharti Singh does. I love the fact that a woman is doing so well as a stand-up comedian, which is normally a male preserve."
Mandira likes comedy that conveys messages.
"I think non-vegetarian humour is a cop out. What I like about Gangs of Hasseepur is that this show is clean."
"I have hosted a lot of corporate shows. I've seen all sorts of stand-up comedians like Vir Das and Vikram Sathe. I respect comedians who keep it clean. Talking about sex is the easiest way to get people to squirm in their seat and laugh out.
"I like stand-up comedy that has lots of messages, and that is the strongest part of this show," says the actress.
Of her co-judge she says, "Tanishaa is a lovely and easy-going person. People may think that with two ladies sitting on the same desk there will be cat fights, but there is nothing like that.
"We had a good time while shooting. We have shot for a few days and there are many more to go. I am sure you won't hear any stories about us," she says smiling.
Will she be a part of the second season of Anil Kapoor's television show 24?
"I certainly hope so. A big rework was required for season two. They have to make a lot of changes in the plot.
"I loved playing Nikita Rai in the series. It was like she was me. I got great feedback. When I watched mine and the original, it was an amazing feeling. I am looking forward to it," said Mandira.
Gangs of Hasseepur launches on April 26 at 8 pm on Zee Television.