Television star Manav Gohil may not have made it to the Nach Baliye finals with his wife Shweta Kawatra, but the actor is certainly a television talent to watch out for.
Last week, Manav chatted with Rediff readers, and even told us who he thought should win Nach Baliye, and why he could not stay on.
For those who missed the chat, here's the transcript:
Manav Gohil says, Hello this is Manav Gohil here. You can start sending your questions.

---
shital asked, Hi Manav ur perfomance was very nice in NB-2
Manav Gohil answers, hey thanks a lot shital... appreciate it :)
---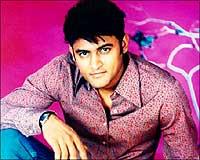 shireen asked, hey Manav I just wanted to know who do u think is the best couple in Nach Baliye 2
Manav Gohil answers, thats a tough one shireen.... but at this stage i think Hussien-tina have a fair chance of winning.... Bakhtiyaar Tan were technically the best dancers.... all of them had their USPs ...
---
niketu99 asked, Hi Manav! I think you were too good in Nach Baliye 2..
Manav Gohil answers, HI niketu, wassup? where are you from?
---
divya asked, hi manav , my name is divya.To your surprise, my husband resembles you 100%.
Manav Gohil answers, HEY DIvya, please keep him away from Shweta ;)
---
ektaa asked, do u know that u looked dshing in the dance sequence where u were the "old fat boss"
Manav Gohil answers, I look good enough to be laughed at is all i know
---
Anamika asked, Hi Manav. The show that first introduced you to me was Sarrkkar. I really liked you on that show. I think you have cute dimples. My mother quite enjoyed watching you smile on that show. You and "Nahar" from Saat Phere are my favourite actors on Television. Hope everything goes well for you in life. I heard through the grapevine that you are coming to USA? I'd like to meet you if you do. Please email me at sangipras@aol.com if you'd like. I'd love to show you and your wife around. I am in CA. You deserve the best in life. Hope you always get the best. Take care! ~~~~Anamika.
Manav Gohil answers, Hey Anamika, thats so sweet of you. Say a hi to your mom. Yes I am planning to visit the US but i would be in NY mostly. But when i visit that side maybe we oould meet up. CHeers and thanks a lot : )
---
Kaustubh asked, Hi Manav... How things man? Remember me? Reference - "MANJIRI" :))
Manav Gohil answers, Hey Kaustubh wassup? HOw is my sis doin? Hope she is not troubling you ....lol
---
Ashish asked, why did u left CID thats the only show which we watch
Manav Gohil answers, HI Ashish, i loved CID myself, but there are a lot of aspects involved in the decision of either taking up a show or dropping it. I loved the show, the people, we still very good friends but i felt the need to move on and do something more challenging. As a matter of fact, i still am looking for something that would challenge my potential as an actor
---
Guarav asked, I am not here to ask yuo any questions but just to tell you that you take dancing seriously now onwards....you were fabulous man...keep it up...
Manav Gohil answers, Hey gaurav, i will take your advice seriously. I love to dance and will difinitely take it up more seriously. thanks
---
Sanjay asked, How has been your experience in Nach Baliye?
Manav Gohil answers, Hi Sanjay, My experience in NB has been very enriching. Maade a lot of friends, got thicker with the existing ones, spent more time with Shweta, also the fact that shweta now enjoys dancing is an achievement for us. I was a trip worthwhile.... will stay with us for a long time : )
---
Jeetendra asked, Hello Manav, Khemcho....dont you get film offers? Aren't you trying to get into films?
Manav Gohil answers, Hi Jeetendra, I have got a couple of film offers but none that would arouse my interest. Maybe will wait for something that matches upto my requirement and that i would match upto :)
---
KaustubhDate asked, Shweta bhabhi to apna salaam bolna... guess u too busy reply to all these msgs - Manjiri and I will call you later... Have funn!!
Manav Gohil answers, sure Kaustubh... catch you guys later....
---
neha asked, these saas bahu soaps r generaaly women centric,then do high caliber actors like u really get the creative satisfaction in ur job?
Manav Gohil answers, HI Neha thats a nice question. Thanks a lot first of all to have thought of me as a high calibre actor :) I think i still have to come across a script that would satisfy the actor in me completely. Growth on the other hand is very important, and the work i am doing right now is making me think everyday in terms of what can i as an actor do to enhance my character et al. ITs something i look forward to each morning. So i am not complaining over what i am doing right now but yes, i could be happier and more satisfied as an actor. WIll wait for that day :)
---
kalyani asked, Hi Manav,what is your mantra of life? best wishes forall your endeavours in life, kalyani shukla
Manav Gohil answers, HI Kalyani, i am actually clustered with mantras in my life currently. 'what stands between you and a beautiful life is the lack of courage. The courage to dream' I read this somewhere recently and am workin on it ;)
---
Rhea asked, Hello Manavji.. firstly i wuld like to say dat u n shweta make an excellent pair.. n u guys rocked on nach baliye..i 've no questions.. just best wishes for both of u ! n yes.. ur dimples r damn sweet ;)
Manav Gohil answers, Hi reah, thanks a lot. Thats really sweet of you. Cheers!
---
MG asked, Dear Manav, It is nice to see u on NB2 with your Dancing prowess,Had yours choreographer good one, U could have made it to final,sorry My vote did not work for u
Manav Gohil answers, Hey thanks a lot MG for having voted for us, and yes unfortunately they could not save us ;) nevermind buddy, we had a great time. As a matter of fact my choreographers were one of the best we could have got. good human being great teacher, what went against us is the format of the show. i.e. audiance voting ; )
---
cutebaby asked, Hi maanav.. are u and shweta going to plan a family soon?
Manav Gohil answers, HEy cutebaby, actually a CUTEBABY is what we would be looking forward to but there is a little time before we get there. Maybe a couple of years.
---
sanat asked, Hey manav u were one of the best male dancer in nach baliya 2, and ur performance was osom. i was very much disappoint when u had to go out. It was really a very frustaing situation for ur friends.
Manav Gohil answers, Hey sanat, i liked the way you say that OSOM.... :) I know what you mean buddy, well that ok... we are takin it easy... Cheers :)
---
sunil_chambyal asked, can i see you your girlfriend plz
Manav Gohil answers, HEy Sunil.... you just missed us together.... we were, just a couple of weeeks back dancing on a show together.... NB perhaps lol. Shweta is still a very good friend you see ;)
---
jeevan asked, Don't you think that SIM card controversy gave you lot of bad name? will you be remembered as an actor who was associated more with SIM card rather than acting?
Manav Gohil answers, HI Jeevan. I have to go so i though of answering one last question and i found your question very interesting. Well, i do not think people would remember the controversy for a very long time. They might remember us more for the work we do than the work that media does for us ;) ALso i am online after a very long time and i see a lot of you concerned about the issue so lemme take this opportunity to clear my stand on the same. It was a very typical case of blown-out-of-proportion by the media. yes i did buy 200 simcards, but that was not a crime or anything unethical or unfair. There was a limit of 20 votes from one card and some of my friends reletives wanted to vote more for us. The idea was to basically facilitate them vote more for us. YOU dont even know what all goes into the publicity or self campaigning. We were titled the laziest couple in doin so. We never performed bad and stayed in the competition on the basis of votes, rather i got out of the competition on the day i did my best. If i would really be a good manipulator, i would be in the finals with such performances..... dont you think so???
---
Manav Gohil says, Hey guys.. it was really nice being with you all. I have to go now for my shoot. In case you have more questions you could go to my site www.manavgohil.com and post them there. Thanks a lot for all your love and concern... love you all. and sorry could not attend to all of you ... cheeers...