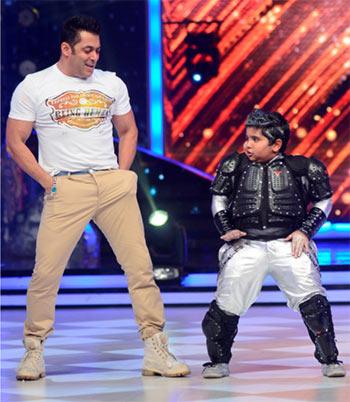 'I want to become an actor. I don't think I will have a problem juggling between studies and acting,' Akshat Singh tells Rajul Hegde/ Rediff.com
Nine-year-old Akshat Singh, who impressed everyone with his dancing skills on the television show Jhalak Dikhhla Jaa, was eliminated from the show last week.
The Class IV student claims he isn't disappointed.
"I am glad that I made a lasting impression on the audience. I feel that's equal to winning the Jhalak trophy," he says.
The show gave him the opportunity to meet his idol, Salman Khan.
"How else would I have met him? I got to dance with him too. He even praised me for my performance. I hope I get a chance to work with him in a film; he often works with children in his films," says the dancing prodigy.
And if 'Salmanbhai' calls him for his upcoming show Bigg Boss, "I will definitely go. There the audience will see bada Bigg Boss with chota Bigg Boss," he chuckles.
"The most memorable moment was when I won the golden shoes and also got a perfect score of 30 for the maximum number of times on the show. I got the highest scores that even the most popular actors on the show didn't manage to get," boasts the youngster.
Did he expect to be eliminated when pitted against Shakti Mohan during the face-off?
"No. Shaktidi is a good performer. In the face-off, everybody was tense about being eliminated but I kept calm. I was only bothered about giving my best."
Akshat predicts that Shakti will be the winner.
He got along best with Kiku Sharda. "He is a simple person and is fat like me," he laughs.
He will miss Vaishnavidi, his dance partner, and his choreographers.
The Kolkata-based dancer says he wants to settle down in Mumbai and become an actor.
"I am not going back to Kolkata. I will join a school here. I want to become an actor. I am getting offers to participate in dance shows. I don't think I will have a problem juggling between studies and acting," he says, looking ahead.