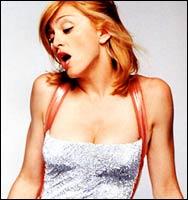 The Material Girl still rocks, and she's got the numbers to prove it.
Madonna, complete with plans of motherhood, liplocks with Britney Spears, and continuing children's books, earned more money than any major artist through touring in 2004. Billboard Boxscore reports her smash success Re-Invention tour rang up receipts of £65 million.
She sold out all but one of a whopping 56 dates worldwide, cashing in an average of £1.2 million per gig!
'My Re-Invention tour was by far the most creatively satisfying experience I have ever had,' the icon claims. 'I was able to put everything I love into one entertaining event: film, music and dance.'
Prince's Musicology tour attracted around 1.5 million people -- more than any other performer -- to gross £47m.
Other big earners included evergreen Simon & Garfunkel (£31m), Metallica (£28m), Bette Midler (£27.7m), Sting (£27.2m) and David Bowie (£24m).
In what can only be called an astonishing commentary on Casino taste, Celine Dion earned more than £40.2m from her residency at the Colosseum at Caesars Palace in Las Vegas.
The Red Hot Chili Peppers, with James Brown and Chicks On Speed, headlined the biggest-earning engagement of 2004, with three nights at London's Hyde Park in June, grossing £9m.