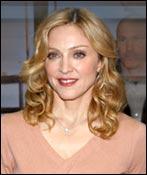 Pop's First Lady regrets sacrificing her education for her career.
Now 46, Madonna has enrolled at Oxford for a BA in English Literature. She won't savour the awesome campus though; she will study for her degree at home.
While it is easy to scoff at this latest Madonnaism, it is important to keep in mind that Madonna is an extremely intelligent woman.
Before her pop career, she studied modern dance and drama at the University of Michigan, on a scholarship won because of her excellent grades.
Her IQ is reported to be 140, and she cherishes this chance to study at the institution that educated four British kings, and 47 Nobel Laureates.
Her love for literature was rekindled when she authored a popular series of old-styled children's' books, English Roses. She is currently ending her Re-Invention Tour, and launching dolls, tea sets, and umbrellas based on the aforementioned books.
'Madonna was always irritated about giving up her schooling when her career took off. She is fiercely intelligent and incredibly well read and has always taken a keen interest in literature. She is determined to get a qualification. She sets herself new challenges all the time and the Oxford University course is her latest. It's an illustrious place to study and she was delighted to be accepted and will make the most of the opportunity,' an insider told Britain's The Sun tabloid newspaper.
Photograph: Getty Images