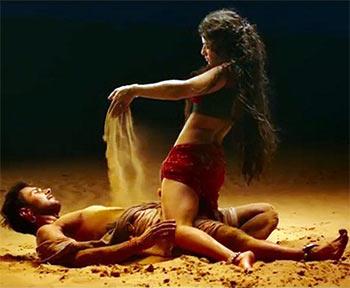 Sunny Leone's Ek Paheli Leela co-star Rajneesh Duggal reacted to reports claiming that his lovemaking scene in the film was shot with a body double.
"No body doubles for me; I can do all my lovemaking myself," Duggal quips. "Whether it's stunts or lovemaking, I don't need body doubles. That was me with Sunny."
Rajneesh says he was brought into Ek Paheli Leela at the last minute.
"I was shooting in Varanasi for a film when I was asked to do a three-day guest appearance. I readily agreed," he says. "But when I landed in Rajasthan, they increased my role and Rahul Dev's (with whom I have most of my scenes) to full-fledged parts."
About the intimate scenes with Sunny Leone, Rajneesh says: "We rehearsed our lovemaking scene for days. It was finally perfectly coordinated."
Rajneesh, incidentally, had to seek his wife's permission to do the said scenes.
"My wife was obviously not too kicked by the idea. I had to convince her that it was make-believe and I wasn't really indulging in the act. Also, it was important for my career," he says.
The actor had earlier refused to do intimate scenes on screen but decided to go all-out as part of his image makeover.
"I guess one has to shed one's inhibitions in this day and age," he reasons. "I was shy because of my marital status. Before Leela, I had even said no to love scenes in the films directed by my mentor Vikram Bhatt."
Bhatt had tried in vain his best to get his protégée to shed his clothes and do intimate scenes in the films 1920 and Dangerous Ishq.