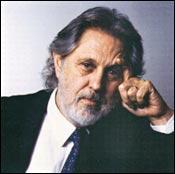 Lord David Puttnam was, for over three decades, Britain's leading film producer, bringing to the fore directorial talents like Alan Parker (Midnight Express, Bugsy Malone), Ridley Scott (The Duellists), and Hugh Hudson (Chariots Of Fire, My Life So Far).
The Oscar-winning producer, however, suddenly quit the motion picture business and headed off on an interestingly varied tangent, that of education.
Lord Puttnam is currently Chancellor of the University of Sunderland, President, UNICEF-UK, and Chair of Britain's National Endowment for Science, Technology and the Arts.
And, he is absolutely enthralling company over a big mug of coffee. In the first half of this conversation with Entertainment Correspondent Raja Sen, Lord Puttnam talks about entering movies, leaving them behind, and professional disillusionment.
First things first, the question you're asked pretty much every single day: Why the unlikely jump from movies to education?
(Laughs) Yes, (I answer that) a few times a day! Well, I'd say it wasn't the most rushed of maneuvers. I'd done 30 years in the business, and the change, at the time it did come about, just felt quite right.
You've always left your profession when flourishing. Very successful in advertising, you left agencies behind to suddenly turn into a Fleet Street photographer. Then came film, and, now, education. Is it boredom that spurs you towards change?
Not at all. I've loved every stage of life, but I must concede that the variety has been fascinating. I entered advertising when I was very young; I was 16 when I began. Then came photography, and films. It's all been good to me, and I've thoroughly enjoyed myself.
Do you feel more accomplished now, making policy decisions instead of motion pictures?
(Smiles) That's an interesting way to look at it. But yes, definitely. The last seven years or so have seen me as a part of the legislative process, which is great. I can actually work on my decisions and try to get them implemented, and effect real change. That's not something films can do; films are great, and I love them, but there is no tangible showing of them making any actual change!
It's incredibly ironic, though. Lord Puttnam, part of the system, is a far cry from David Putnam the irrepressible anarchist. You've never been known for being politically correct…
(Laughs) Yes, that's true. I'd hardly ever be able to describe myself as politically correct. Most of the time, I've always been a lonely voice rattling against the establishment. A lot of it had to do with my obsession with cinema's obligations towards the audience. I kept arguing for films to be made more responsible.
I've never really been a filmmaker who's a part of the mainstream; I was always just a little bit off-centre, a little outside. (Smiles) My wife always calls me 'a filmmaker who never entered show business.'
How did you enter films? Did you always want to be a filmmaker?
Now, I'd like to be able to answer, 'absolutely!' But that would be an exaggeration. I lived at the cinema as a child, absolutely loved movies. I went into photography for a few years, and managed to gather a lot of capital. Well, enough to facilitate my entering cinema.
The transition from photography to cinema was seamless. In hindsight, it seemed like the advertising and the photography were both, in their own way, preparing me for a life in the cinema.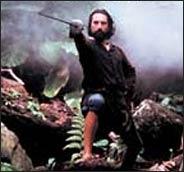 Was it a difficult plunge, diving into a career like cinema?
I think one of the most important factors in my favour was my almost complete ignorance! I was blithely ignorant of what cinema entailed, and maybe if I'd known just how difficult it was, I might never have gone into it! (Laughs)
And it was the late 1960s, and there was a very positive feeling among all of us. I wouldn't call it arrogance, but we were positively brimming with self-belief! The atmosphere was very conducive to risk, and we felt anything was possible. So, with this heady feeling of 'yes', I felt there was always a safety net -- I could always return to advertising or photography if I failed -- and, knowing that, I jumped!
You have a great affection for advertising. Did you ever consider returning to it?
Yes. After the success of Chariots Of Fire and The Killing Fields, I was left slightly demoralised. In a 'what else is there?' way. A friend of mine Maurice Saatchi and his brother (Charles Saatchi), asked me if I would like to take over and run their agency (Saatchi & Saatchi, at one point the world's biggest advertising agency) for them. And I must admit, I was very tempted.
But then, I had to go back to them and politely give them a firm 'no'. Because I realised that I just wasn't suited to corporate life. I couldn't go back to being in a 'job', and that was for certain. I didn't enjoy making The Mission (above, left) for the same reason -- it had become a task.
For someone with such an intense dislike for conformity, did you always want to be a producer? Never a writer or a director?
(Smiles) Let me explain. When I was young, and keen to enter the field of motion pictures, an uncle of mine, who worked in the laboratory side of the arts, took me to meet the head of the union. This was one of the most fortuitous meetings in my life. He told me that I couldn't work in films, just because I didn't have a ticket. I was crestfallen, when he casually added: 'You could always be a producer, you don't need a ticket!'
Now, (laughs) to be very honest, if he'd just have told me that I 'could be an editor', because that doesn't take a ticket either, I'd have taken him up on that. And I think I'd have been very happy being an editor! As it turns out, the conversation didn't go there, and I instantly decided I wanted to produce films.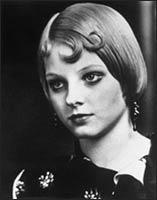 And then you just upped and entered cinema. How did that happen, exactly? Did it come from your role in advertising? I'm assuming you were a copywriter…
(Laughs) Heavens, no! I was a Suit (advertising nickname for the straight-laced executive) all the way! But I was young, and worked my way up the ladder quickly. I was a young Group Head, and working under my group, I had all these great boys -- (Ridley) Scott, (Alan) Parker, (Hugh) Hudson. And later they all made films with me. (Smiles)
My first film was something called Melody. It was a beautiful script that Alan Parker wrote while he was still at the agency. They all dabbled in writing while still working; Saatchi wrote a script too, but it wasn't very good. The film was interesting, but nobody really watched it. It was a disaster -- except in Japan, where it was an enormous success! (Laughs) I have no idea why! But if you ask people in Japan in their late 40s and 50s about Melody, you'll see what I mean. They loved that film!
Then came the other milestone films -- That'll Be The Day, Stardust, Bugsy Malone (above, right), and Ridley Scott's first film, The Duellists. These were all really fine scripts, and my knowledge of the craft kept increasing on the job.
And then came Midnight Express, in 1978. This is one of your most enduring successes, but you've often expressed dissatisfaction with the film. Why?
True. I didn't enjoy making that film at all, and it still turned out to be very successful indeed. It's a very disillusioning feeling. I had finally earned my spurs as producer by that time, but the flaw with this production was that I wasn't contributing anything to it.
It wasn't my film; it had increasingly become more like a job. So I was never satisfied working on the film. And then it became this great success, and I couldn't stand that.
Tomorrow: Chariots of Fire and the Oscars