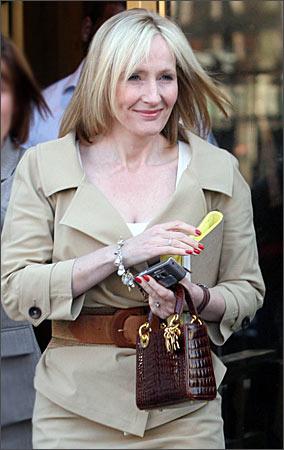 British author J K Rowling has written an 800-word prequel to the Harry Potter series for charity.
The book, which was written almost a year after the seventh and last book Harry Potter and the Deathly Hallows, was published, was penned in the past month and will be auctioned for charity next month.
Rowling is among the 13 authors invited by Waterstone's, the bookseller, to fill an A5 story card that will be auctioned off on June 10.
'From the prequel I am not working on -- but that was fun!' The Sun quoted her as saying.
The auction will be run by Philip Errington of Sotheby's and he has stated that the book could bring in a huge amount.
'Given the enormous interest we have seen for autograph work by JK Rowling, there is no telling how high the bidding might go,' he said.
The proceeds from the sale would go to two charities, Dyslexia Action and English Pen.
Gerry Johnson, the managing director of Waterstone's, was quite surprised with the decision Rowling had taken.
'We never dreamed that JK Rowling would donate something so precious, and we're incredibly grateful,' he said.
Fans, who are not capable of meeting the bidding price for the prequel, can have a look at a facsimile of the story the day after the auction, where it will be displayed in Waterstone's branches and on its website.
In August, a book containing all 13-story cards will go on sale, with proceeds going to charity.
Text: ANI | Photograph: Getty Images