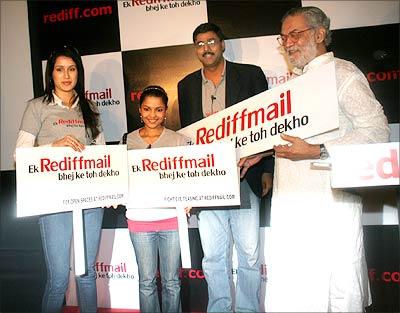 After championing women's hockey in Shah Rukh Khan's Chak De! India, Sagarika Ghatge and Chitrashi Rawat, the two stars of last year's blockbuster are now championing the cause of open spaces and fight against eve teasing.
The two were joined by theatre personality Gerson Da Cunha during a television campaign launched by rediff.com with the punchline Ek Rediffmail bhejke toh dekho.
As a sportsperson, Sagarika knows the importance of open spaces. "Having grown up in Mumbai, I really understand the importance of the open spaces and I always wanted to do something to protect the few open spaces left in the city. I am really happy to be associated with rediff.com who has given me this opportunity to spread the message further and mobilise support for this cause."
Speaking up against eve teasing, Chitrashi said, "The issue cannot be controlled only by authorities and the police. It is upto us individuals to take charge and stop being mere spectators of such hideous acts."
The ways to tackle these issues is simple -- simply write in to foropenspaes@rediffmail.com or fighteveteasing@rediffmail.com 
Photograph: Pradeep Bandekar