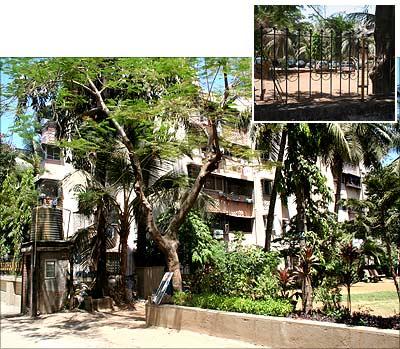 This Friday, director Apoorva Lakhia's take on the November 1991 police encounter, which killed gangster Maya Dolas and his accomplices, will unfold on celluloid in
Shootout At Lokhandwala
.
You won't see the building where the shootout happened in the film, so we present you pictures of where it really took place.
On November 16, 1991, Dolas and his henchmen were hiding in this building, Swati, located in Lokhandwala Complex.
Lokhandwala Complex, situated in Mumbai's suburban Andheri area, looked very different in 1991, from its present upscale avatar.
Those days, it had no proper roads, was badly lit and quite isolated. Today, it is a sprawling location of high rises and smart shops, and home to many Bollywood and television actors.
Photographs: Uday Kuckian
Also Read:
The man behind the Lokhandwala shootout
Sanjay Dutt: 300 bullets were fired that day
Vivek Oberoi on Shootout