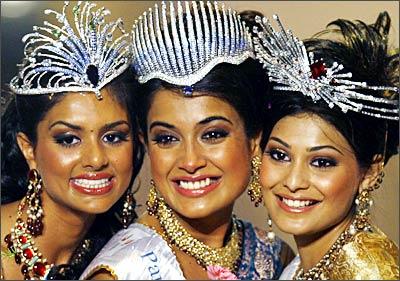 After having been crowned winners of the beauty pageant, Pantaloon Femina Miss India World 2007 Sarah Jane Dias (centre), Miss India Universe 2007 Puja Gupta (right) and Miss India Earth 2007 Pooja Chitgopekar will soon start taking lessons in grooming, etiquette, diction, diet and other finer details to help bring laurels to India in the Miss World, Miss Universe and Miss Earth pageants respectively.
"Winning the crown entails a lot of responsibility," Sarah Jane says. "There is stress to the point where I feel 'will I be able to live up to the expectations?'"
She hopes to spread awareness about two issues that concern her the most -- global warming and imparting sex education to children.
A singer herself, Sarah wants to cut an album and also do films. ''Whether I do Hollywood or Bollywood does not matter,'' she says.
She counts Aretha Franklin among her models. "I like Aretha Franklin because I am a singer," she explains. 
Sushmita Sen is another role model she looks up to. "Sushmita is a complete woman. She won the crown, adopted a baby, is a fabulous mother and her presence is irreplaceable," she says.
Puja Gupta adds, "There are no runners-up. We are all winners."
Pursuing a course in Creative Writing from New York, Gupta is not dogged by the fact that her predecessors Sen, Aishwarya Rai and Priyanka Chopra won their respective awards quite a while ago. "We will surely make it. This is just the starting," says the girl, who hails from Delhi.
An aspiring pediatrician, Pooja Chitgopekar, currently in the fourth year of her MBBS studies at University of Auckland, says she has put her studies on hold for the time being. "When I told my professors that I was participating in the contest, they were amused. I want to major in pediatrics as I love kids."
Fashion and glamour have not been new to this girl. She had previously participated in the Miss India New Zealand contest in 2002 and was also adjudged the first runner-up in Miss India Worldwide in 2003. ''I was familiar with the contests and was asked to submit my portfolio, which I did. I got through the preliminaries and here I am with the crown."
With this success, she says it will be easier for her to meet Sudha Murthy, whose work she admires the most. ''After winning the crown, meeting Sudha Murthy will be easy.''
She will use the Miss India platform to address issues like HIV and organ donation.
Text: UNI | Photograph: Getty Images