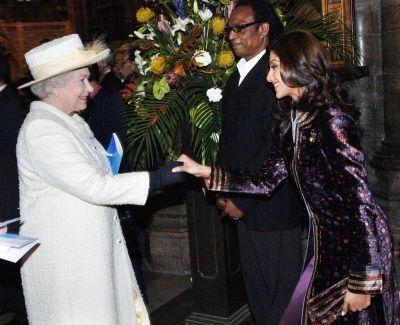 When we say Shilpa Shetty went and saw The Queen, we don't mean Helen Mirren's Oscar-winning movie.
Nope, Shilpa was in London to meet Elizabeth II at Commonweath Day on Monday,  celebrated at Westminster Abbey.
The actress delivered a speech on -- you guessed it -- racism.
Shilpa -- reportedly wearing an intricate purple velvet Tarun Tahiliani sherwani -- curtseyed before the Queen, and then almost slipped in her high heels. Apparently Prince Philip smilingly told her to be careful about the shoes, averting the fall.
Photograph: AFP/Getty Images