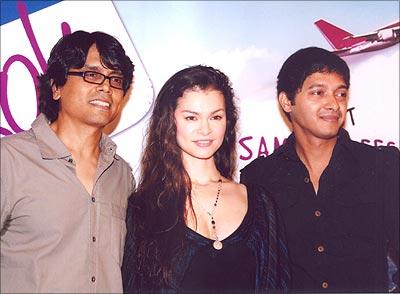 The Iqbal trio of director Nagesh Kuknoor, actor Shreyas Talpade and producer Subhash Ghai have come together again for their next film, Bombay To Bangkok.
Iqbal, the story of a deaf and dumb villager who aspired to be a cricketer made Shreyas a star overnight.
Speaking to reporters at the new film's launch, Ghai said, "Nagesh and Mukta Arts share a special relation post Iqbal. We hope to recreate the success story of Iqbal."
Bombay To Bangkok is a romantic comedy about a cook who discovers love and life on a flight from Bombay to Bangkok.
Shreyas will be seen romancing Thai model Lena. The film also stars Vijay Maurya, Rajeshwari Sachdev, Vikram Indamdar, Yatin Karyekar and Naseeruddin Shah in a special appearance.
Salim-Suleman will compose the music for the film.
For Nagesh, it was his experience as a tourist in Bangkok that prompted him to make the film. "I realised that though we are different peoplem we're still all the same."
Asked why he was keen on making only small films, Nagesh smiled and replied, "I would love to make big films but no one is giving me that kind of money. I have eight scripts and cameras ready but you need money to make them."
Lena, meanwhile, is happy to be a part of the Bollywood fraternity. "I have grown up on Bollywood films in Thailand and I love the songs and dances in them. To act in one of them now is unbelievable," she said.
However, the model said cannot recollect the names of Hindi film stars because she finds their names difficult to pronounce. "If you show me their pictures, I will be able to tell you about their films. But as far as their names are concerned, I cannot pronounce them!" she exclaimed.
Meanwhile, Nagesh has also signed John Abraham for another film called Aashayein.
In the picture: Nagesh Kukunoor, Lena and Shreyas Talpade
Photograph: Pradeep Bandekar