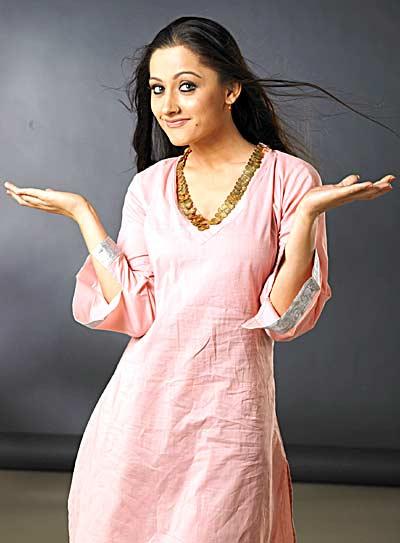 For a change, Ekta Kapoor's new soap is not a
saas-bahu
drama.
Kya Hoga Nimmo Ka
has a more 'Jassi' feel to it. The central character -- played by newcomer Sanjeeda -- is a clumsy girl who is almost never favoured by Lady Luck and gets into trouble all the time.
A dance instructor, Sanjeeda hails from Ahmedabad. Describing her role, she says, "It is a Cinderella-like story about a middle-class girl called Nimmo Mathuria. She is satisfied with her life, has no high profile dreams and accepts life as it is. So, will her destiny change?"
Nimmo's mother Kantaben wants to be a Page 3 regular. Her sister Naina wants to be Miss India and marry a rich guy. Her other sister Swati is very practical and wants to marry someone who has his own news channel or enough money to open one. But Nimmo is closest to her father, Anand, a very humble man.
The rest of the cast includes Dara Singh, Dolly Thakore (who makes her TV debut), Bharati Achrekar, Navneet Nishan, Rakhi Tandon and Eijaz Khan. And yes, Navjot Singh Sidhu plays God in the serial!
Watch out for Kya Hoga Nimmo Ka on Star One between Monday and Thursday at 10.00 pm, starting March 20.
Text: Priyanka Jain