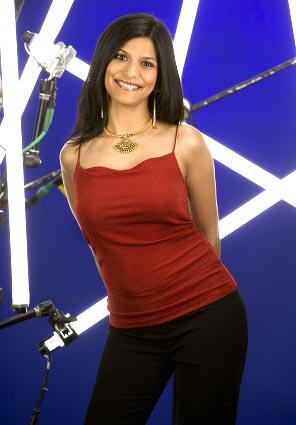 Devika Mathur -- who used to be the popular evening drive time radio jockey on the now off-air Mumbai FM radio station WIN 94.6 -- is making waves of another kind in Toronto.
On June 8, on the third episode of Canadian Idol -- the, well, Canadian version of Indian Idol -- 2005, Devika was one among 32 contestants given a ticket to the next round to be held in Toronto.
After comments like, 'Your sense of pitch is fantastic and your sense of artistry is really lovely,' 'Your a-capella is unbelievable' and 'I don't think you could be more beautiful if you tried,' Devika was seen running with delight towards the judges who handed her the ticket.
'It's Gold!' she exclaimed, to which a judge replied, 'Just like you!'
Devika left WIN 94.6 in December 2003 after getting married to a Indo-Canadian. Apart from her radio prowess, she was also known for her singing in Mumbai -- being a member of local bands and also winning the Corporate Karaoke Competition for WIN 94.6. Once she moved to Toronto, Devika has been hosting a two-hour show on a multicultural radio station in Toronto, CMR 101.3 FM.
Ever since she first appeared on Canadian Idol, Devika has enjoyed a lot of support on various Internet Forums. She remains the only South Asian in the top 32.
Photograph: Courtesy: Canadian Idol
Text: Siddhanta Pinto