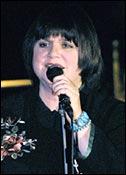 US singer Linda Ronstadt, winner of ten Grammy awards, was booed by the audience and escorted out of Las Vegas's Aladdin hotel-casino after praising filmmaker Michael Moore for his documentary Fahrenheit 9/11 during a performance, agencies reported.
Describing Moore as a "great American patriot" and "someone who is spreading the truth," she urged the audience to see the documentary about President George W Bush and the September 11, 2001, terrorist attacks. The singer has reportedly been using the same introduction at other recent performances.
But some of the 4,500 people in attendance stormed out of the theatre, tearing down concert posters and throwing cocktails into the air, the reports said.
"It was a very ugly scene," Aladdin president Bill Timmins was quoted as saying. "She praised him and all of a sudden all bedlam broke loose."
Ronstadt was stopped from entering her luxury suite at the hotel and escorted off the property, he added. Ronstadt "spoiled a wonderful evening for our guests and we had to do something about it".
"I think it was a modest thing I did," Ronstadt told the Los Angeles Times. "This is an election year. I want people to get their head up out of their mashed potatoes and learn something about the issues and go and vote. I am not telling them how to vote. I am saying, get information about the issues."
She also denied that she was thrown out of the casino, saying she didn't even know that the casino operators were angry about the comments.
In an open letter to Timmins posted on his website, Moore writes: Which country do you live in? For you to throw Linda Ronstadt off the premises because she dared to say a few words in support of my film and me is simply stupid and un-American.