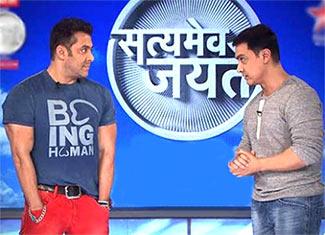 Does our collective conscience awaken only on Sunday mornings, asks Nishi Tiwari about the latest episode of Satyamev Jayate 3.
The fourth episode of Satyamev Jayate 3 delved into the ticking time bomb that is Tuberculosis (TB).
A fatal respiratory disease, TB is mostly diagnosed among the poorer citizens of the country, who, in India's case, constitute a major chunk of its population.

Subsequently classified as a poverty disease, TB is an epidemic-in-the-making that should have been given the attention reserved for national emergencies a long time ago.

But that, unfortunately, is not the case since it mostly strikes and claims the lives of the underprivileged.

While this gross class divide and why TB has been largely ignored by administrators does come up in the course of the show, the fourth episode of Satyamev Jayate kicks off with the tragic story of Dr Shekhar Khandare.

Dr Khandare's sister Samidha, a young doctor herself, was diagnosed with TB and passed away due to lack of proper understanding of her condition and lack of proper care despite receiving the best medical care.

What ensues is a series of interviews with top doctors from across the country shedding light on the various stages of the disease that are defined by how drug resistant it is, how it is highly dangerous due to its contagious nature, and how, as one of the nations with the highest number of TB cases in the world, have been severely and tragically lacking in our efforts to curb it.
Then there are inspiring (and horrifying) stories of survivors and how they managed to fight it.
Stories are shared, new conversations launched and ways to get a grip on ground reality are discussed and it all ends on a starry note when (a dazed and awkward) Salman Khan makes an entry to recount his own grandmother's story, a TB patient herself.

While the experts agree that TB should be declared a National Health Emergency, I'm suddenly struck by our collective gross ignorance, apathy and short-sightedness towards something that does not directly concern us.

So it takes a TV show and a Bollywood star to tell us about one of the deadliest and most widespread diseases that can eventually kill us all.

TB won't be accorded the attention it warrants until someone in the high places contracts it and we can't understandably wait for that to happen.
Would we follow the exemplary steps of the city New York, that weeded out TB in four years flat with the aid of some dedicated experts, workers, and a concrete plan in place.

Going by our track record, I guess our collective conscience awakens for a mere two hours and a half every Sunday morning.
Liked the latest episode of Satyamev Jayate? VOTE!
Read about the first three episodes of the latest season of Satyamev Jayate here, here and here!