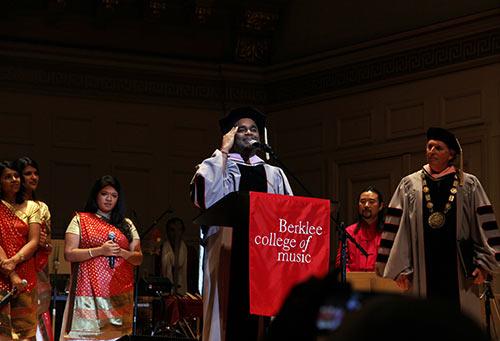 For Rahman, who had never attended college, the event hosted by the Berklee College of Music must have seemed humbling.
Alla Rakha Rahman galvanised Boston recently, selling out the city's 2,625-seat Symphony Hall to accept an honorary degree from the Berklee College of Music, as part of a night that celebrated the pervasive influence of his music.
On stage, an obviously touched Rahman likened the crowd to "one big musical family."
He cited nostalgically his 1992 decision to pursue an opportunity to score the Tamil film Roja over an education at Berklee. The Mani Ratnam film was the composer's first big break into the musical scene and was ultimately deemed one of the '10 Best Soundtracks' ever by Time magazine in 2005.
As he stood in his gray doctoral regalia, Rahman said by accepting this honour in Boston his life had come "full circle." The honorary degree is a title to be shared by musical greats like Duke Ellington, B B King, James Taylor and Smokey Robinson.
For Rahman, who had never attended college, it seemed humbling.
"This is such a kind gesture," he said, looking around at members of the Berklee faculty, who shared the stage with him.
Among them was the music college's president, Roger H Brown, who presented the award and said that Rahman's "commitment to philanthropy and musical education (was) admirable."
As a tribute to the composer from Chennai, a booming synthesis of sound made up of The Berklee Indian Ensemble and the Berklee World Strings group graced the 110-year-old stage and performed two hours of energetic and unique arrangements of Rahman's most celebrated work.
The Berklee Indian Ensemble, led by artistic director Annette Philip, is a diverse group of approximately 40 student performers of various musical backgrounds and ethnicities, formed in 2011.
Patrons dressed in equal parts glittering, floor-length anarkalis and Western cocktail attire broke out in thunderous applause as the ensemble performed Rahman favourites from films like Dil Se, Lagaan, Taal, and Guru.
At one point in the evening, the Boston University dance team BU Bhangra stormed through the aisles and performed an ebulliently choreographed routine to the title song from the 2005 film Rang De Basanti.
The night also featured an awe-inspiring, energetic solo by 18-year-old prodigy bass player Mohini Dey, who has previously shared the stage with Rahman, and jazzy riffs by guru guitarist Prasanna, a '99 Berklee graduate.
Proceeds from the event's ticket sales, which were sold for as high as $10,000 each, will be used to fund the college's newly established Rahman Scholarship. The annual award will help aspiring young musicians in India attend Berklee to build their artistic careers.