After Michael Keaton, Val Kilmer and George Clooney, it is Christian Bale's turn to don Batman's suit.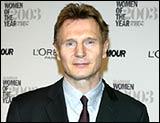 But bad guys always evoke more interest in the Batman series. Jack Nicholson (Joker in Batman), Danny DeVito (Penguinman in Batman Returns), Jim Carrey-Tommy Lee Jones (Riddler and Two-Face in Batman Returns) and Arnold Schwarzenegger (Mr Freeze in Batman and Robin) played villains to the hilt in the previous Batman movies.
If all goes right, Liam Neeson is next.
Having worked in films like Schindler's List, Les Miserables, Rob Roy, Gangs Of New York and Love Actually, Neeson has all eyes set on playing evil in Batman: Intimidation, mentions a report in People magazine.
Christopher Nolan, the man behind Memento and Insomnia, will helm this Batman film. Michael Caine and Katie Holmes are other confirmed members of the cast.
Batman: Intimidation is the fifth film in the Batman series after Batman, Batman Returns, Batman Forever and Batman and Robin.
The new movie will concentrate on the human side of Batman, which hasn't been explored before. In an interview to Variety, Nolan was quoted saying, 'Ours will be a recognisable, contemporary reality against which an extraordinary heroic figure will arise."
Photo: Getty Images