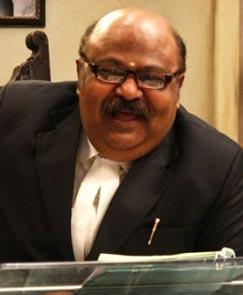 Saurabh Shukla, Piyush Mishra and Sanjay Mishra are not likely to be in the limelight when a film releases, but they are the ones who eventually light up the movie.

These days Saurabh Shukla is living in a daze.

It's been three days since the 61st National Awards were announced, and Shukla's phone hasn't stopped ringing.

Congratulations are pouring in by the hundreds for his win in the best supporting actor category as the lovable judge in Jolly LLB; who discovers his conscience in the course of the court proceedings.

When he looks back at his nearly two-decade-long journey in the Indian film industry, Shukla can see landmark roles, collaborations with 'thinking' directors, but also a constant struggle to not get stuck in the inflexible skin of a slapstick caricature that mouths witless lines in a commercial potboiler.

His efforts have proved successful so far -- and with meaty roles in recent successes like Barfi and Jolly LLB, 51-year-old Shukla has become a prominent name on the marquee.

Today, his presence in a film creates a buzz and draws people to the theatre.

So what was it about his role in Jolly LLB that clicked with the audiences?

"Bollywood has been accused in the past of not telling an original story. Here was a story of our times. We all know how the courts, especially the lower courts, work but no one had portrayed them realistically till Jolly LLB came along," says Shukla, "I think what appealed to people was the fact that the judge was a real human being, not just a character with a gavel."

Like most of his contemporaries, Shukla has his roots in theatre.

The 1980s were considered the golden era for theatre, and Delhi of the time was home to playwrights and directors who were transforming the face of the art form. Shukla, a young graduate from Khalsa College, couldn't resist being part of the dynamic theatre fraternity and made a mark for himself with roles in A View from the Bridge and Vijay Tendulkar's Ghashiram Kotwal.

"By 1985 I had realised that this is where I wanted to be. I became a part of the National School of Drama (NSD) Repertory Company," says Shukla. Impressed with his work, Shekhar Kapur cast him in Bandit Queen and thus began Shukla's tryst with films.

"My biggest battle when I moved to Mumbai was to fight the stereotype of a fat man with a comic timing. But I was lucky to have worked with directors like Sudhir Mishra who allowed me to prove my credentials as an actor," says Shukla.

His biggest break came with the role of Kallu Mama in Satya, a film that he also co-wrote with Anurag Kashyap (Shukla is a man of many talents: he is a lyricist, screenplay writer, and theatre and film director). Kallu Mama remains one of the most unforgettable characters in Indian films till date.
"People thought that post-Satya my life would become very easy. Sadly, it wasn't so," says Shukla.
"I was not getting roles which had life in them. They were all cardboard characters. In fact, there was a phase before Barfi when I decided not to act any more." When Anurag Basu approached him for Barfi!, Shukla was apprehensive about working in a film being made in a commercial setup.

"But the film revived the actor within me completely. And all credit goes to Anurag and Ranbir. The good times started from there."

If 2014 brought Shukla a National Award, it gave Sanjay Mishra, yet another gifted actor from NSD, a landmark role of Bauji in the critically acclaimed Aankhon Dekhi.

The actor brought to life Bauji's quirks, complexes and oft-misunderstood humour. The film makes one wonder where Bauji ends and Mishra starts.

"Actors usually have to become 'someone else' in a film. But with Mishra, it's different. He is that character," says Rajat Kapoor, who has directed Mishra in the film. When he was writing the script, Mishra's face was what kept springing in his mind.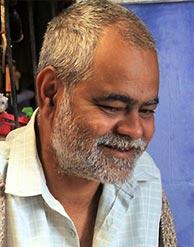 But mention 'Sanjay Mishra' in a gathering, and you will be greeted with empty stares. Put an image to the name and the silence will quickly turn to a cacophony, with people listing their favourite Sanjay Mishra roles -- Apple Singh, the lovable icon created by sports broadcaster ESPN during the 1999 World Cup, or Shuklaji from the sitcom Office Office.


The success of Aankhon Dekhi has added to the curiosity around him.

"The response I have received is magical. At a screening, people asked me if they could touch my feet. I was bombarded with messages on Facebook," says 50-year-old Mishra on the phone while on a shoot in Rishikesh for Yash Raj Film's Dum Laga ke Haisha. Mishra's father, a government information officer in Patna, used to spend sleepless nights worrying about his son's future (Mishra failed to clear Class X thrice).

"My father was extremely fond of literature and would spend a lot of time with authors. One of his close friends was noted writer Manohar Shyam Joshi who was also a palmist," says Mishra, "He suggested that I go into the performing arts."

The youngster got accepted at NSD and embarked on a journey towards becoming an actor.

"NSD mein kya atmosphere tha -- aas paas plays ki rehearsal ho rahi hai, Irrfan and Ashok Lokhande are your seniors, Tigmanshu Dhulia is your roommate." says Mishra. "But it wasn't that I was very academically inclined at NSD either. You ask me to act, jump around, perform any number of yoga asanas, but I won't be able to remember their names."

Moving to Mumbai would have been a natural progression for any NSD graduate. But Mishra had other plans.

He went off on a photography trip at the Kumbh Mela. "Not many know that he is an extremely spiritual person. There is an internal quest within him. Mishra is the kind of person who will disappear for 20 years.

And if you will ask him about his whereabouts, he will say, 'I had gone to the Himalayas to become a sadhu'," says Kapoor.

It was only after his father urged him to pursue his subject of choice that Mishra moved to Mumbai.

His father had an influence on his career path quite a bit, and Mishra paid a tribute of sorts to him through Aankhon Dekhi.
"The character of Bauji seemed to me a lot like my father. For a particular scene, I requested the costume designer if I could wear my father's shirt. When my mother saw the film, she said, 'Bilkul Papaji lag rahe hain'. That was a huge compliment," he says.

His close friend Vijay Krishna Acharya, director of the moolah-churner Dhoom3, is all praise for his comic prowess.

"Mishra is the kind of actor who blooms if he is allowed to improvise." The duo, who have been friends since 1993, have collaborated on serials like Life Nahi Hai Laddoo, which was axed in 2000 to make way for Ekta Kapoor's Kahani Ghar Ghar Ki on Star.

"We share a very weird sense of humour. That has really cemented our friendship," says Acharya. "Also, he has a great imagination. You might say something that would seem unreal to other, but he would really get it. And he is so rooted that he will make something that is flighty seem so grounded. That is exactly how he is as an actor as well."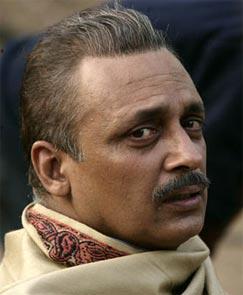 You have seen him croon during season 3 of Coke Studio India, heard his compositions and his sometimes deep, sometimes quirky lyrics in films like Tashan, Gulaal and Gangs of Wasseypur.

You have also seen his power-packed performances on screen -- it seems like there is almost nothing that Piyush Mishra can't do. After his memorable role in Gangs of Wasseypur, Mishra is seen in the much-awaited Revolver Rani.

But the going wasn't always easy for this 51-year-old NSD graduate. Not many are aware that Mishra was to audition for the role of Prem in Maine Pyar Kiya, the film that catapulted Salman Khan to fame.

When asked about it, he can't recall why he didn't appear for the audition.

Brought up in Gwalior, Mishra was a restless soul (a trait he shares with his fellow NSD-alumnus Sanjay Mishra), dabbling in various art forms -- from playing the sitar to sculpting.

Finally he moved to Delhi and joined NSD in 1986. In the ensuing years he acted, wrote scripts and worked with people like Vishal Bhardwaj, but resisted moving to Mumbai.

However, when his son turned three, he realised that he simply had to make the shift if he were to make money.

In an interview with Business Standard in 2011, he had said: "There were times when I felt I was wasting my time, but I had faith in myself." In 1998, he worked in Mani Ratnam's Dil Se but the performance went unnoticed.

Years later, it was his role as Kakaji in Bhardwaj's Maqbool that got him his due. He managed to hold his own even when sharing space with stalwarts like Naseeruddin Shah. But the most memorable of his roles was that of a poet-musician who idolises John Lennon in Anurag Kashyap's Gulaal and it is one that has stayed with audiences even after five years of its release.

"Anurag is unconventional in his work and I knew that I had to come up to match his style," said Mishra in the same interview.

He maintains that at his age, he doesn't expect lead roles to fall into his lap. Rather he is looking for roles that leave an impression. "I don't want to become a star or be recognised in public. I am happy to be away from the spotlight," he said.