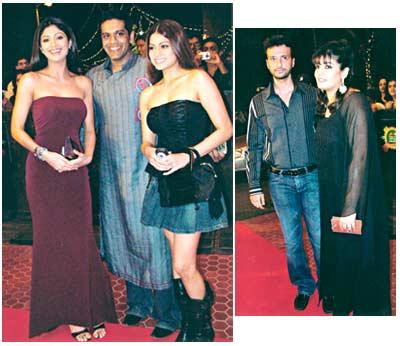 The Most Stylish Person in Music (Male) went to the simplistic Shaan, beating out Strings, DJ Aqeel, Lucky Ali, and the Bombay Vikings.

Meanwhile, in a singularly striking display of corporate nepotism, the Most Stylish Person in Music (Female) ignored nominees Sunidhi Chauhan, Vasundhara Das, Neha Nagpal and Ritu Vaidya, going instead to the strangely-accented MTV VJ, Sophia.

We assume they don't have any 'all employees are barred from participation' clauses.

Raveena Tandon, making her first public appearance since pregnancy, was rewarded with Most Stylish Person in TV (Female) for her Sahara dud, Sahib, Bibi aur Ghulam. The corresponding Most Stylish Person in TV (Male) went to a well-deserving Farooque Shaikh.

Rocky S, much in the news for his anti-Aishwarya comments, got the Bollywood Designer Of The Year award.

Designer Rocky S flanked by Shetty siblings, Shilpa and Shamita; Anil Thadani with wife Raveena Tandon.