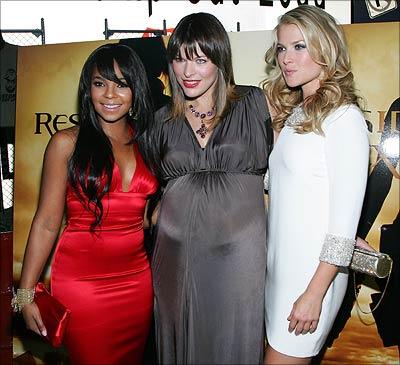 A galaxy of stars descended in the city of Las Vegas, Nevada for the world premiere of Resident Evil: Extinction.
A visibly pregnant Milla Jovovich (centre), the star of the film along with the rest of the cast -- Oded Fehr, singer Ashanti (in red), Mike Epps, Matthew Marsden, Spencer Locke, and Ali Larter (in white) landed at the Planet Hollywood Resort & Casino on September 20 for the film's screening.
Though the film topped the weekend box office in North America taking in about 24 million dollars in US and Canadian theatres this weekend, it remains to be seen if it can do the same in India when it releases this Friday (September 28).
Jovovich, who's expecting her first child with fiance Paul W S Anderson, looked radiant as she mingled with a group of show girls hired for the event.
Directed by Russell Mulcahy, Extinction which is about a zombie-slaying heroine (Jovovich) is said to be the final installment of the Resident Evil film franchise.