'According to legal advice provided to me then, I was told we had very limited options.'
'Now in hindsight and after taking stock of things myself, I can quite see how I was ill-advised.'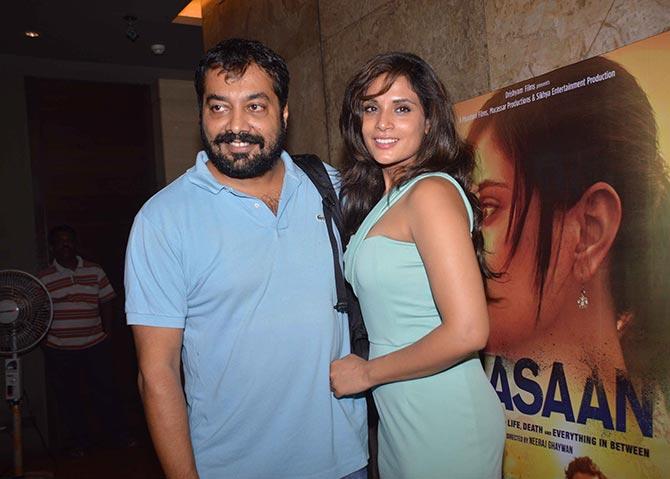 Film-maker Anurag Kashyap has opened up about the sexual harassment allegation against his Phantom Films partner Vikas Bahl, saying he was 'ill-advised' in the matter by his lawyers.
In a recent article on Huffpost India, a former woman employee of the now dissolved production banner reiterated the allegations against Bahl and shared more details about the incident in May 2015.
According to the report, the woman said she had reached out to Kashyap and detailed her experience, but no action was taken while Bahl continued to harass her until she finally quit the company.
In a two-page statement on Twitter, Kashyap said his legal aides told him that there was nothing he could do to fire Bahl from Phantom Films, which they set up seven years ago.
'While at Phantom, I did everything I could, within what I was told by my partner and his lawyers. For legal and financial decisions, I was fully dependent on my partner and his team. They took care of those things so I could focus on what I did better, creatives. His word and his team's word on any matter used to be the final word for us,' Kashyap stated.
'According to legal advice provided to me then, I was told that we had very limited options. Now in hindsight and after taking stock of things myself, I can quite see how I was ill-advised,' he added.
Given the limited options, Kashyap said the company decided to take a 'strong moral stand' that included barring Bahl from the office premises and taking away his signing authority.
The film-maker also said he 'named and shamed' Bahl in private 'amongst whoever asked about it'.
He claimed that nothing about the allegations against Bahl was 'under wraps'.
'The victim had complete trust in me individually. However, since she knew I depended on others to handle legalities (and perhaps was more perceptive than me in seeing how I was being poorly advised), maybe she found it difficult to trust that I would be able to (or allowed to) see the plan through of stripping Vikas of his power within the company,' Kashyap added.
'This could perhaps also be why she eventually backed out of signing the document that was being put in place capturing the terms of how this would be dealt with,' he said.
Kashyap said the lawyers told him that Bahl's removal from the company was hindered by two things -- his status as 'an equal promoter/director who actually ran the company' and that there was no clause in their contract to fire him 'on the grounds of misconduct'.
He claimed that the story got out only after he corroborated it with the journalist. He also claimed he was the anonymous source who leaked out the story to the media last year.
'Why did I take time to corroborate the story? Because I took time trusting the journalist. I placed my trust in him only when the victim told me that I could. Corroborating the story is also taking a stand.'
For a long time, Kashyap said, the victim did not tell him about the incident because 'she saw me dealing with depression'.
'She put herself through a personal hell to protect me and I could not because I was unfortunately ill-advised that there is little I could do,' he added.
'That being said, I fully understand that it is no excuse whatsoever and all of my actions above I'd hope are demonstrative of every intention on my part to set this right.'
Kashyap said there are not many provisions to deal with sexual harassment in the industry and feels it is 'extremely ill-equipped' to counter this menace.
'This industry is extremely ill-equipped to handle matters such as sexual harassment, copyright, censorship and all the things we put ourselves in dock with. A large part of the reason for this is that there is clearly lack of correct advice and awareness of legal remedies,' he added.
He apologised to the victim and said he will ensure that such incidents would not happen again on his work premises.
According to the publication, they had also sent detailed questionnaires to Phantom Films's remaining three partners -- Bahl, Vikramaditya Motwane and Madhu Mantena.
Before the article was published, the four partners on Saturday, October 6, decided to dissolve Phantom Films, without citing the reason for this decision.
*****
Vikramaditya Motwane apologises
Filmmaker Vikramaditya Motwane on Sunday broke his silence over the controversy involving Bahl, his Phantom Films partner, apologising for the incident and said he will ensure a safer working environment on the sets of his films.
'I'm truly sorry about what happened to the girl. Vikas Bahl is a sexual offender. He's preyed on a young woman, abused her trust, ruined her life. The scars are going to stay and that just isn't right.
'The only thing I can offer now is an apology. And the only thing I can say is that this will never happen again on my watch," he wrote in the statement.
Motwane, whose films Lootera, Trapped and Bhavesh Joshi have all been made under the banner, said he was unaware about the incident until March 2017.
'I didn't hear about the incident between Vikas and the girl when it happened in 2015. The the first time I heard of it was in March 2017, when Anurag called me and told me about it.
'Madhu, me and Anurag sat with the girl and she told us the whole story, in the same detail as in the article. It was hard to hear and it horrified us,' he said.
Motwane said the company ensured that Bahl does not produce or direct a film while they contemplated a strict action against him.
'We immediately began to take action. We offered suspending Vikas from the company for a long period of time, not letting him produce or direct, taking away his signatory rights as well as sending him in rehabilitation.
She agreed. So did Vikas, who had to no memory of the incident. We also worked towards formalising this and even taking steps towards documenting these terms,' he said.
Motwane said the victim refrained from going public about the incident and Kashyap and Shubhra Shetty, tried to convince her to change her mind.
'Of all the various remedies offered then to the girl and us, which included suspending him from the office, stripping him of any signing authority and not allowing him to produce films - we did all of it.'
The filmmaker also defended his silence over the incident and said he did so to protect the identity of the woman.
'For those of you accusing me of being complicit, creating a boys club, and protecting Vikas -- I was silent in the press because I felt I was trying to make things right in a manner that, at all times, sought to protect the identity of the girl in question, without assigning any doubt whatsoever to her version of what had transpired, and most importantly, on terms that she wanted and expressly agreed to then.'
*****
Neeraj Ghaywan, Varun Grover slam Phantom Films
Meanwhile, film-maker Neeraj Ghaywan and writer Varun Grover on Sunday, October 7, criticised Phantom Films for its failure to create a safe working environment for women on their films' sets.
Ghaywan's 2015 drama Masaan was jointly produced by Phantom Films while Grover worked with the banner on films such as Raman Raghav 2.0, Bombay Velvet and Netflix series Sacred Games.
'I am sorry. As somebody who has been a part of many projects with #Phantom in various capacities (lyrics/writer), I feel ashamed that they failed to provide safe working environment for women,' Grover wrote.
It was a failure on his part, Grover said, that he did not stressed upon the company to follows the guidelines of Sexual Harassment of Women at Workplace (Prevention, Prohibition and Redressal) Act, 2013, also known as PoSH guidelines.
'We all are complicit in this failure by rarely checking on our female colleagues or demanding POSH guidelines to be followed. We are all complicit in letting this industry run purely on the hubris and entitlement of a few powerful men,' Grover said in another tweet.
'All of us men have let our job insecurities or emotional distance from such cases or patriarchy-induced prejudices to allow us to ignore or move on. Whenever some of us have raised our voices, they have either been too feeble or too inconsequential -- and the onus is on us alone,' he added.
Going forward, Grover said he will question the men in power about creating safe environment for women.
'It's a moral crime and I promise to introspect and learn from it, and will keep questioning the people in power and my friends (this time louder and clearer). What's the purpose of all the art we create if it's devoid of any moral centre. Sorry again,' he said.
In a statement posted on Twitter, Ghaywan said he felt disgusted by the allegations against Bahl.
'I have felt absolutely disgusted by what Vikas Bahl did to a fellow team member. A legal complication enabled that he couldn't be sacked owing to him being a partner. That complication has enabled him to make another film while she continued to go through agonising mental trauma.'
'It was her choice not to speak at the time and I respect that. However, we are complicit in that system. I will speak for myself: I am complicit in working with the company that allows it. I allowed myself to work where such toxic male behaviour and perverse patriarchal mind-set fostered,' he wrote.
Ghaywan said he has introspected a lot in the aftermath of Tanushree Dutta's resurfaced allegations of sexual harassment against Nana Patekar.
Lack of women crew members, he said, allows such behaviour to be 'trivialised'.
'At a personal level, I have been partially following some informal/unsaid rules as far as my personal working ecosystem is concerned and I am going to stringently enforce them from here on.'
Ghaywan said he will not sign any film with a banner that refuses to follow PoSH guidelines.
Screenwriter Apurva Asrani also slammed the company, saying, 'Many associated with #VikasBahl's company knew his reality.'
'Not only did they allow a predator to continue -- they also earned money and fame by working on his films. Several among these were self appointed crusaders of social media who arrogantly called out people for their mistakes,' Asrani alleged.