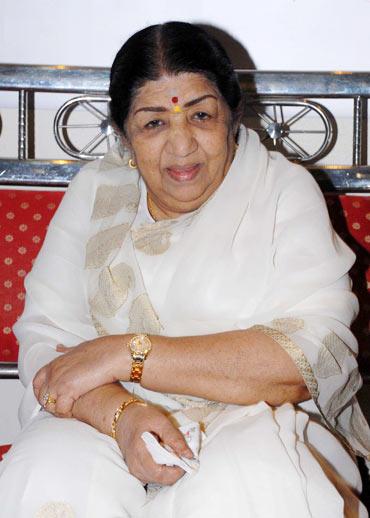 Music composer Ravindra Jain passed away into the ages on Friday, October 9, in Mumbai.
Lata Mangeshkar, who sang some beautiful songs for him, pays rich tribute.
Lata Mangeshkar did not sing too many songs for Ravindra Jain but whatever she did, were of exceptional quality.
Recalling her association with the composer, she says, "He was very clear about what he wanted and would not budge from his viewpoint. I think the first song I sang for him was the beautiful melody Tera mera saath rahe from Saudagar. We started our professional association on a note of dissent during the recording of this song. It was composed at an impossibly high scale for a female singer. I remember when Shankar-Jaikishan had given me Ajee roothkar ab kahaan jayeyiga in Arzoo, I was appalled at the high notes. I felt the same when I heard Ravindraji's song Tera Mera Saath Rahe. But he was firm.The song turned out beautifully."
The association continued with Raj Kapoor's Ram Teri Ganga Maili.
Raj Kapoor heard Jain sing Ek Radha Ek Meera at a public performance and immediately got up from his seat and walked up to the dais. He gave Jain a token currency note saying, 'This song is mine. You will be doing the music of my next film.'
"Rajsaab was very excited that Dadu -- that was what Ravindra Jainji was called by everyone -- would be doing the score for Ram Teri Ganga Maili," Lataji says. "And what beautiful melodies I got to sing in this film! Besides Ek Radha Ek Meera, there was the film's title song and Tujhe bulaye yeh meri baahein. After Ram Teri Ganga Maili, Rajsaab signed Ravindraji for Henna. Sadly Rajsaab passed away after we recorded two songs. One of the songs Baaju mein woh hai baaju mein tum ho was a typical Raj Kapoor song. But when Rajsaab's son Randhir took over Henna, he dropped that song. I was very pained by that."
The other composition Chitthiye has a history too.
"Rajsaab told me I have to express the sentiments of both the Pakistani and Indian beloveds, played by Zeba Bakhtiar and Ashwini Bhave. It was a challenge.I remember many people, including (singer) Suresh Wadekar, came to hear me record that song," she says.
Lataji remembers Ravindra Jain as a happy and talented man.
"Look at the melodies he created in Chit Chor like Tu jo mere sur mein, Jab deep jale aana and Gori tera gaonbada pyara! He was a jovial and warm man. Whenever he called, he would insist we meet up. He said really funny jokes. When I heard he fell fell ill, I called up his wife. I wanted to go and see him but everything happened so suddenly," she says.
"On my last birthday, he had posted really lovely wishes for me on Twitter. I'll always treasure those words," she says emotionally.
Photograph: Pradeep Bandekar