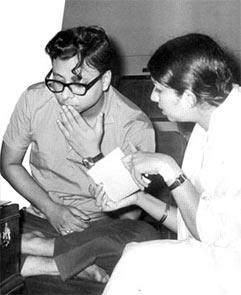 On RD Burman's 75th birth anniversary, Lata Mangeshkar pays rich tribute to him.
If legendary composer Rahul Dev Burman was alive today, he would have been 75 years old.
"I wish he had lived. He died too young and too unhappy," says Lata Mangeshkar, as she recalls her long association with the composer.
"I had seen him running around in his half-pants when I'd record songs for his father Sachin Dev Burman. Pancham was immensely talented. He could compose in any style, and he knew exactly which song to give to which singer. If he gave my sister Asha Bhosle Piya tu ab toh aaja, he gave me Raina beeti jaaye. He also gave me Naam ghum jayega chehra yeh badal jayega... This is the signature tune of my career," Lataji acknowledges.
She reveals how unhappy RD was during his final years. "For a composer as talented as Pancham to be almost jobless was a living death. Pancham was very unhappy. He would sometimes share his grief with me. I feel sad even now when I recall how cruel the industry was to Pancham just because some of his music didn't do well."
Recalling the brutality with which the industry tends to treat the unsuccessful, Lataji says, "Before Pancham, there were two other very talented composers, who died unhappy. Khemchand Prakash never saw success or money while he lived. He was in hospital on his death bed when Aayega anewala from Mahal became a rage. He could reap none of its benefits. Then there was Ghulam Mohammed. He struggled all his life and died leaving behind the immortal music of Pakeezah."
Pancham's 1942: A Love Story became a posthumous rage as well.
Lataji gets emotional as she recalls Pancham's request that she sing for him in the film. "Didi, I don't know how much money there is in this,' he told me. I told him not to worry about money. I'd sing the song for free if the need arises. Finally, I was in Delhi when I heard he passed away. I recorded the song Kuch Na Kaho posthumously for Pancham. I remember Sanjay Leela Bhansali was present during the recording of the song. He shot the song Pyar Hua Chupke Se -- sung by Kavita Krishnamurthy -- so beautifully. If Pancham had lived, he would have been so happy to see his songs used so beautifully."
Lataji was a special guest at RD's first marriage with Rita Patel.
"Pancham asked me for a gift," she says. "He wanted me to write a letter counseling his new wife on how to conduct herself with him. 'Didi, you know me longer and more closely than almost anyone else. Tell my wife what I am like and how to cope with me,' he told me.
"That letter was with him until his end. I believe it was found in his bank locker."
Recalling the years before RD's untimely death at age 54, Lataji says, "I was in London when Pancham underwent heart surgery. On the day before the surgery, he called me to say he wanted to see me. I went to meet him in hospital. By God's grace, he recovered. But then unhappiness killed him a few years later. He was very depressed about his career and his mother's senility."

Fondly recalling her recordings with RD, Lataji says, "If Kishoreda (Kumar) was with us, it was full masti. We would have great fun. His songs have withstood the test of time."
Lataji selects her favourite R D Burman compositions: O Haseena Zulfon Wali (Teesri Manzil), Naam Ghum Jayega (Kinara), Baahon Mein Chale Aao (Anamika), Bada Natkhat Hai Re Krishna Kanhaiya (Amar Prem) and O Mere Dil Ka Chayan (Mere Jeevan Saathi).