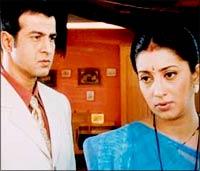 India's most popular serial, Kyunki Saas Bhi Kabhi Bahu Thi, takes a leap of 20 years on June 7 – the second such move since it began in 2000. The prominent changes include Tulsi Virani (Smriti Irani) shifting to the new avatar of Baa, and Amba Virani's (Sudha Shivpuri) exit after about 50 episodes of generation next. There will also be a new character -- Krishnatulsi -- who will take over as daughter-in-law of the Virani family.
Krishnatulsi's entry is to be a dramatic one. Just before the leap, Tulsi is to go to Haridwar, where she will confront the issue of female infanticide. She will save the girl and keep the child, who is then to be brought up in the Virani family.
Now, to find someone to play Krishnatulsi, Ekta Kapoor has organized a talent hunt. Balaji Telefilms has already had auditions in Mumbai and Pune, but hasn't found someone for the part. The next round of auditions will take place in New Delhi, Simla and Chandigarh. There will be 10 to 12 new characters in the serial, with about 80 per cent of old cast retained.
| | |
| --- | --- |
| | Also Read |
| | |
When asked if we will finally see her with grey hair, Smriti Irani says she "doesn't mind it if it goes with the character." However, she adds, "Ekta is not too keen on it, as most woman dye their hair black these days."

Speaking about the 20-year leap, Creative Head Shivani Singh Chauhan says, "This is one of the most successful shows on the small screen and people want to see more of it. Why should we pull it down? We are not trying to show something that doesn't exist in society. Our stories come from real life and this leap will also depict vices in the family -- like drugs and other things."

Will there be more saas-bahu fights? "No," says Irani. "The bahu will have all the values inculcated by Tulsi but, of course, there will be a generation gap reflected in the bahu's dressing and style."

So, how are Balaji scripts written anyway? Shivani says, "They are normally written in advance but, as an when the situation demands it, there are last minute changes on the sets." And why is there so much crying? "Everybody's life is full of melodrama," says Irani. "Ekta once told me that, the more I cry, the more my TRPs go up. I cry so that my company flourishes."

There will be other changes too. Amit Sareen, who played Sahil Virani, will be out. Ansh Gujral (Aakashdeep Saigal) will come in as Ansh's son Eklavya. And yes, there will also be a new, huge house for the Virani family.