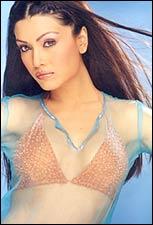 If she has to go for a shoot early, the sizzling Koena Mitra leaves her house without breakfast. She sometimes skips the gym too, if there really is no time. She loves to sleep late when she has an off day. A normal day is gym, breakfast and then the sets.
The glamour girl was born and brought up in Kolkata, where she did her schooling and college. A psychology major, Koena won the Gladrags Supermodel Contest in 2002, and came to Mumbai.
She has a body to die for. In her first film, Musafir, she played a dancer who gets killed. In her next film, Insan, her character dies again. We're assuming things may be different in her latest outing, Ek Khiladi Ek Hasina, releasing on November 18.
The film is produced by Pritish Nandy Communications, and was initially slated to star Bipasha Basu, who backed out due to a lack of dates. Suparn Verma, director of EKEH, liked the fresh face he saw in Musafir, and cast Koena as the heroine in his film.
In EKEH, Mitra plays a pyschiatrist (her college degree finally comes in handy), achieving the large Bollywood leap -- from item-song dancing girl to dialogue-spewing leading lady.
She feels that people noticed her as a newcomer in Musafir, because all the rest of the cast in the multistarrer were already very well known.
"I was not confident about my voice, but my directors had confidence in me. As I am a Bengali and am used to conversing in Bengali and English, I thought my Hindi would show an accent," Koena says, modestly.
She feels she will grow as an actress with every role. "Before every shot, I psyche myself into the mood." So, if it's a scene where she needs to be angry, she will psyche herself into a furious mood. She wants the body language to match the dialogues.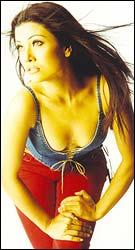 "The most interesting thing about movies is that with every role you get to play a different person," says Koena. Talking about the new film, she adds that none of the songs in the film happen in "reality", so it is all right if you see a doctor dancing in Ek Khiladi Ek Haseena.
She would like to act with big banners because she thinks they market their films well.  Having won a modelling contest, she is automatically placed in the glamorous, hot, sexy bracket. She doesn't mind that, as long as the director shows her in a decent manner. She doesn't mind the sensuality, but dislikes vulgarity.
She would like to experiment with roles and is ready to do any role. She would love to act for Priyadarshan.
She says modelling grooms you completely. You get over the camera phobia; you perform for the camera. Modelling helps you with camera angles, it teaches you how to catch the light, and everything you need to know about the director's eye. The director calls her on the sets and she wants to know, "Is it a front shot or a back shot or a profile?"
She is a stickler for punctuality. She has been to Milan and Paris, among other places, for fashion shows. She never sits on the sets with a phone. "I don't like to talk on the phone, and prefer making friends on the sets."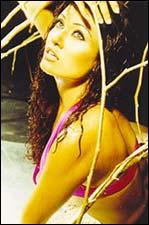 On a typical working day, she winds up at 10 pm, which means no nightlife for Ms Mitra. On free days, she calls friends over and watches movies at home, or ends up going to the Mumbai theatres. "In Mumbai," she says, "people never mob you. They might come and talk to you, but they never make you uncomfortable. When you go out of station, it is different."
"I am a simple girl and do not like partying. Whatever parties I attend are small ones, with my own friends." Koena's idea of fun is "a small party at home with five friends, where you can sit and talk. In a disco, you can't talk as there is too much noise. It's much better to be home with some good music, maybe a good movie. I like to sit and chat till 5 in the morning."
Koena maintains her body by healthy food and exercise. "You must eat at the right time, and enough. I love Thai food and seafood. You must never stuff yourself." She sleeps six hours a day.
Her studies in psychiatry have taught her to observe people. She knows "when a person is being natural, and when he or she is putting on an act."
Well, Koena, you sure are going to need those skills in dealing with Bollywood!