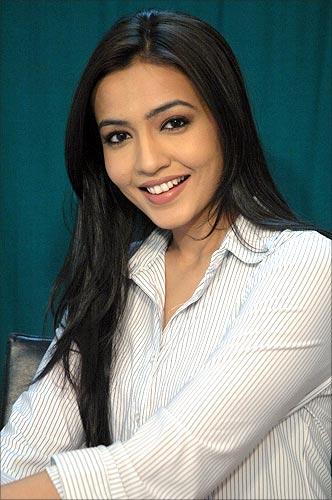 Kissmet Ka Khel is the saga of two protagonists Krishna and Damini, whose aspirations drive them to push all boundaries to realise their dreams. They are two individuals with strong principles who could have been friends, until fate thought otherwise.
As Krishna and Damini struggle to overcome the obstacles in the way of their goals, their paths cross and they seem to be made for each other.
Nidhi Seth (in the picture) who plays Damini was earlier seen in Mohalla Mohabbat Wala and Sangam. But unfortunately both the shows did not work for her. Talking about her character, she says, " I cannot identify with my character. Damini is headstrong and can only think about her career. But I have too many ambitions unlike her. I want to enjoy my life to the fullest," she smiles.
Karron Mallik is a Mr Grasim contestant and this is his television debut as an actor. He has done few ads like Pepsi where he has shared screen space with Shah Rukh Khan, and Priyanka Chopra. Karron is set to tie knot with his childhood friend in November. Talking about his character he said "Krishna comes to Mumbai as a child from Bihar after a bad past. He is a tough youngster burning with pent-up anger, but with one ambition that is to make it big in the construction business in Mumbai. I think viewers can easily connect with the character".
Beena Rai who plays Damini's grandmother and closest confidant is back on television. She said, "Today's television has no creative freedom. I don't see myself doing saas-bahu sagas; neither do I see myself participating in the reality show. I am doing this show only because it is a strong and an interesting character".
Text: Rajul Hegde
Catch Kissmet Ka Khel every Monday-Thursday at 10.30 PM on 9X.