After Namrata and Priya Dutt released their book on their parents, Mr And Mrs Dutt: Memories Of Our Parents, another book on Sunil Dutt and Nargis has been launched this week.
Author Kishwar Desai's Darlingji traces the love story of this legendary couple.
Kishwar, who hails from Ambala (in Haryana), travelled extensively as her father was in the police service. Her first marriage brought Kishwar -- who also worked as a journalist in Indian Express in Chandigarh -- to Mumbai for three years.
After a lot of debate with her second husband, Lord Meghnad Desai, Kishwar decided to write a book to Nargis. Interestingly, her next book will be a biography of noted writer Sadat Hassan Manto, the research of what is currently on.
Over to Kishwar:
Earlier you wanted to write on only Nargis. When did you decide to include Sunil Dutt in the book as well?
We were keen to spend time with Sunil Dutt and get some fresh material on Nargis, as there were many books on her. We met Sunil Dutt once in Delhi to discuss about the book and were supposed to meet him in London later. Unfortunately, he died. So we met Priya and Namrata in Mumbai, and they said they have got a lot of material on their parents.
Sunil Dutt was very meticulous about preserving letters, diaries, even small bills like the first radio that he purchased. When we saw all that material, we realised there was too much to be carried in one book. Namrata and Priya wanted to write a pictorial book, so we decided on two books.

But won't two books on Sunil Dutt and Nargis, releasing at the same time, affect the books sales?
I hope readers will read both books, as both are very different. Namrata and Priya's book is about their memories of their parents. My book is about the whole story of their lives. Both books compliment each other.
Initially, your husband Lord Meghnad Desai and you were supposed to write the book together...
I wanted this book to be read by people from all walks of life, not only people who are interested in cinema. As the project became bigger, we thought that I would write the first draft and then Meghnad would make corrections. But after he read the first draft, he liked it so much that he thought it would be better if it goes as it is to the publisher. So eventually, it became my book.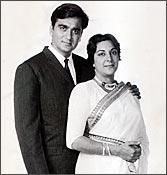 Why did you name the book Darlingji?

 

Nargis and Sunil Dutt had many terms of endearment for each other. He would call her Pia, and she would call him 'Hey there.' They also called each other Marilyn Monroe and Elvis Presley.

 

They also addressed each other 'Darlingji' in some letters. We thought it was very warm and an apt title for a love story.

 

How was meeting Sunil Dutt?

 

I met Sunil Dutt three or four times. But only once in connection with this book. But he couldn't give us a lot of inputs, as he passed away. But when I met him, I got the impression that he was not quite happy with the earlier biographies of Nargis.

 

How was your meeting with Sanjay, Namrata and Priya?

 

They

are very honest and transparent people. They told me lovely stories about their parents.

 

What aspects of their life have you covered?

 

I've tried to cover the romance between Nargis and Sunil Dutt, their early life, his childhood in Khurd and his struggling years when he came to Mumbai.

 

Nargis started working at the age of five and did not enjoy a proper childhood. Sunil Dutt lost his father when he was barely five or six. Plus, they went through the Partition trauma. So they were very keen to give their children a good childhood.

 

I have also written about Jaddanbai, Nargis' mother.

 

Please elaborate on the romance between Nargis and Sunil Dutt.

 

It was a very difficult relationship initially because they cared for each other despite the difference in stature. Nargis was the star in the 1950s and 1960s. Sunil Dutt was still struggling with his acting career when Nargis' career was at its peak.

 

Our society is not very kind to women, who are more successful than their husbands. So I think Sunil Dutt was a very brave man despite his own insecurities and fears. He discussed these problems with Nargis and she helped him overcome those fears.

 

I have a lot of admiration for him because he was truly a liberated man.

 

What are the hard times that they went through that you have mentioned in your book?

 

Nargis' death was the most tragic moment of their lives. There were many other ups and downs but her death was the saddest part.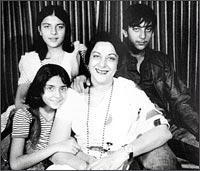 Any trivia from the book that you can share?
Nargis wanted to do a lot of social work. On the sets of Mother India, she learnt of a girl who died during childbirth. At that moment, Nargis decided that she would become a nurse, as she was too old to be a doctor then. She wanted to go abroad and study nursing so that she could help women from small towns and villages.
How have you described Namrata's role in the family?
After she became ill, Nargis went abroad for treatment for a few months. Sunil Dutt went into a deep depression. Somebody had to take charge of the home. That's when Namrata stepped in. Sanjay was busy with his movies and his drug addiction; and Priya was far too young. Namrata is a brave girl. She gave up a lot for her family. 
Have you described Raj Kapoor's relationship with Nargis?
I wrote a chapter on the cinema that they did together. She was a very good actress and she helped him build his studio. There is nothing controversial in the book.
How long did you take on this project? How many people did you meet?
This projected started in 2005.
I met many people during this time, including Dilipsaab (Kumar), Sairaji (Banu), Nimmiji, Ali Rajaji, Shammiji (Rabadi), Zahida (Nargis' younger sister), Rehana (Nargis' niece), Rani (Sunil Dutt's younger sister) and Som (Sunil Dutt's younger brother).