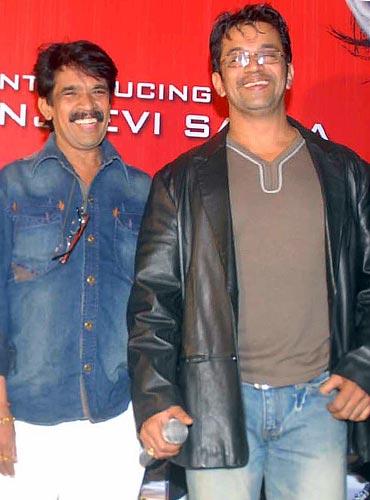 Though 50-year-old Kishore Sarja, who breathed his last on Friday, was better known as the brother of popular Tamil actor Arjun, he was in fact a well known Kannada director.
When he started his career as a film director in the Kannada film industry, Kishore was considered as a bright prospect. Rather than making a mark in the industry, Kishore ended as just another director whose tryst with alcoholism overtook his desire to do something big in the industry.
Kishore is survived by his wife and 20-year-old son.
Just a week before his death, Kishore was admitted to a Bangalore hospital where he was treated for multiple health problems. Arjun cancelled his shooting to do the last rites of his elder brother.
Kishore Sarja and Arjun Sarja were the sons of Kannada actor Shakthi Prasad who had acted in villain's roles in more than two hundred Kannada films.
Kishore started off as an assistant director in Kannada films and was associated with many leading directors like V Somashekhar, Vijay, SV Rajendra Singh Babu and D.Rajendra Babu before venturing into direction with Aleemayya. The film produced by KCN Kumar starred his brother Arjun Sarja.
His recent film Vaayu Puthra which introduces his nephew Chiranjeevi in the lead is now in the post production stage. Andrita Ray is the heroine of the film.
Kishore Sarja had directed several Kannada films like Bhaava Baamaidha, Thuththa Muthha, Jodi and Makkala Saakshi with big heroes like Shivaraj Kumar and Ramesh Arvind.
"Kishore was one of the best directors I had chosen to direct films produced by me. In fact, I gave him the big break as a director. At that time he was serious and was full of enthusiasm. But over the years I saw him losing that enthusiasm and passion for making films. That is a real tragedy," said KCN Kumar who made Aleemayya with Kishore as a director and Arjun as the hero.
Actress Andrita Ray who was the leading lady of Kishore's last film Vaayuputhra describes him as a gentle person. "He really wanted to see his nephew Chiranjeevi grow as a big artist. Kishore had put in lot of hard work. I have been in tears ever since I came to know of his death," Andrita added.
Text: RG Vijayasarathy | Image: Kishore wih Arjun