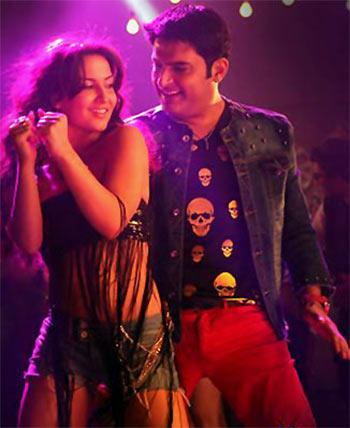 Few jokes that do work in this illogical, tardy drivel called Kis Kisko Pyaar Karoon have more to do with how idiotic they are then amusing, feels Sukanya Verma.

In Abbas-Mustan's Kis Kisko Pyaar Karoon, getting married is not just a life goal but also the solution to any problem. Be it guy dumps you at the altar, guy doesn't elope as promised or death bed-bound father sees a guy holding your hand, it all boils down to shaadi, shaadi, shaadi.
Because every single woman in this film is a jobless, gullible dodo, it happens sooner than you blink.
Making his screen debut as a man engaged in proliferating polygamy, Comedy Nights With Kapil Sharma's eponymous host has a field day playing office; he refers to his three accidental wives (Manjari Fadnis, Simran Kaur Mundi, Sai Lokur) as Head/Branch/Area office respectively.
On his lawyer pal's (Varun Sharma) suggestion, he puts them up in the same building on different floors and is all set to tie the knot for the fourth time to yet another hottie (Eli Avram).
What a cad, right? Kis Kisko Pyaar Karoon disagrees.
It's not the same, it insists.
On previous three occasions, he was only being a Good Samaritan, this one's out of love. Trust Bollywood to see a messiah in a philanderer. Bhagwan, aisa pati sabko de, is the most frequently heard dialogue in the movie. He's even named Shiv, Ram and Kishen, you get the drift?
The Abbas-Mustan farce is in the same mental space as David Dhawan comedies, Saajan Chale Sasural and Gharwali Baharwali, except Kapil is nowhere in the same league as the sprightly Govinda or foxy Anil Kapoor. His poker-face humour and lukewarm screen presence has little impact in the absence of a laugh track.
A foolhardy premise to begin that only gets tedious with the onslaught of worn-out tropes, offensive philosophy, drab songs and escalating confusion in the form of Kapil's cagey father-in-law to-be (Manoj Joshi), hard of hearing, gangster brother-in-law (Arbaaz Khan), surly maid and super filmi parents (Sharat Saxena, Supriya Pathak). Miraculously enough, the actors don't adopt the hammy tone of this baloney.
Indeed, the few jokes that do work in this illogical, tardy drivel have more to do with how idiotic they are then amusing. But mostly you cringe at the sight of Kapil posing next to the full moon from a multi-storey's terrace whilst his starry-eyed wives conduct the Karva Chauth ritual for the four-timing half's long life.
Or, who knows, potential harem?
Rediff Rating: