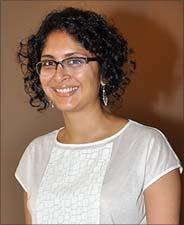 Defending
D K Bose
, the popular song from Aamir Khan's forthcoming project
Delhi Belly
, producer Kiran Rao has said there is nothing wrong with its lyrics.
D K Bose is just a name like `Sheila' and `Munni' and there is nothing wrong with the song's lyrics, she said.
Delhi Belly
director Abhinay Deo had expressed his displeasure over the lyrics, saying he would not like his nine -year-old son to sing the song.
Deo had maintained that the song was "unfit on moral grounds and unsuitable for children". "The song's name is D K Bose and the character they are talking about is D K Bose.
I don't see any problem with it really. What's wrong with the lyrics `D K Bose' is a name just like `Sheila' and `Munni',"
Kiran told reporters here. Asked about her take on the song and the negative reaction from
Ra.one
Director Anubhav Sinha, she said, "I haven't heard the comment myself so I cannot comment. If someone has an issue with it...it is there opinion. But I feel if he did not like it he has a right to his opinion he should not hear the song."
"The song is a funny take on life. It is about this loser who says `
meri kismet kadki hai'
(I'm not lucky enough). I think it is a really funny song. We did not intend anything other than a loser whining about everything around him."
Delhi Belly,
an A-rated (adult) movie, is set for release on July 1 and stars Imran Khan, Kunal Roy Kapoor, Poorna Jagannathan, Vir Das, Shenaz Treasurywala. Kiran has turned song director with
Switty Tera Pyaar Chaida
song from
Delhi Belly
.