Mahesh Bhatt's latest release, Killer, has two debutant directors – Raksha Mistry and Hasnain S Hyderabadwalla. In a free-wheeling conversation with rediff.com, they talk about their forthcoming movie and themselves.
"We started with films by Dharmesh Dharshan -- Raja Hindustani, Mela and Dhadkan -- before branching out," they say. While Raksha went with Rakesh Roshan, Hasnain decided to work with Vikram Bhatt. Raksha worked with Roshan on Koi Mil Gaya and Krrish, but both directors have done a lot of post-production work with Mahesh Bhatt.

Apparently, as assistants, they were waiting for a break and told Bhatt they wanted to make their own movie. He came back to them with a line for a possible story, and the directors got back to him in two days with a script. He liked the idea, and Killer was born.

"Every hijack-victim story has a similar base. Killer has a basic similarity with skeleton of Collateral, but it is not the same," admits Hasnain. "The inspiration was Collateral, we are being very honest about it," adds Raksha. "If I create a story about hijacking a plane, you will say I am making a movie on Kandahar," she adds. They say they have Indianised the story, adding songs and more.

Both directors are confident that, when people go and see Killer, they will find out how different it is from Collateral. Raksha believes the latter is a lopsided film because Tom Cruise plays the killer. She says Killer has been made from the point of view of the cab driver, Emraan. "It is a coming of age film. Emraan is like a schoolboy who has to suddenly confront death, and rises to the challenge."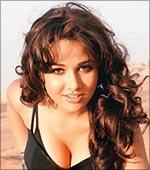 They feel the fantastic chemistry between Emraan Hashmi and Irrfan Khan is the unique selling point of the movie. They say it is like watching a Tom and Jerry cartoon, with Irrfan as the unknown element. Nisha Kothari, the third character, plays a bar dancer. And a confrontation one night changes their lives.
Raksha lived in Africa for 18 years before coming to India. She holds a Masters degree in organic chemistry, but feels it was her destiny to make films. Once in Mumbai, her good friend Manish Malhotra introduced her to Dharmesh Dharshan. Her first movie was
Raja Hindustani
, where she started as a clapper girl and rose to the post of Assistant Director.
Hasnain describes himself as an impatient man. He has a background in cinema though, considering his father and grandfather were both associated with the industry at different times. He is from Mumbai and feels completely at home in the film world.
They are both sure of one thing -- they are here to entertain, not make intellectual films.