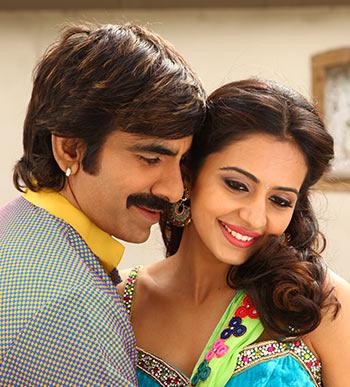 'Compared to Kick, this film is on the next level with higher dose of action and entertainment,' Ravi Teja promises.
Ravi Teja starrer-Kick, directed by Surendar Reddy, was a big hit in 2009 and remade in Tamil (as Thillalangadi), Kannada (as Super Ranga) and Hindi (as Kick).
Now, the same duo returns will its sequel, releasing Friday, August 21.
Kick 2 is produced by actor Nandamuri Kalyan Ram under the NTR Arts banner.
Scripted by Vakkantham Vamsi, Kick 2 has Rakul Preet Singh opposite Ravi Teja.
Ravi Kishan plays the antagonist. The cast also includes Rajpal Yadhav, Sanjay Mishra. Tanikella Bharani, Brahmanandam and Posani Krishna Murali.
"Kick 2 is not a sequel. This is a different script. Even if the audience comes thinking that this is a sequel, there won't be a problem," says Ravi Teja, who has shed 10 kilos for the film.
"I just started working out simultaneously as I felt I had to. Compared to Kick, this film is on the next level with higher dose of action and entertainment," he adds.
The energetic Mass Maharaja, as he is called, plays a character called Robin Hood.
"Four-five years back, I was supposed to do a film with Nandamuri Kalyan Ram but I did it now," he says.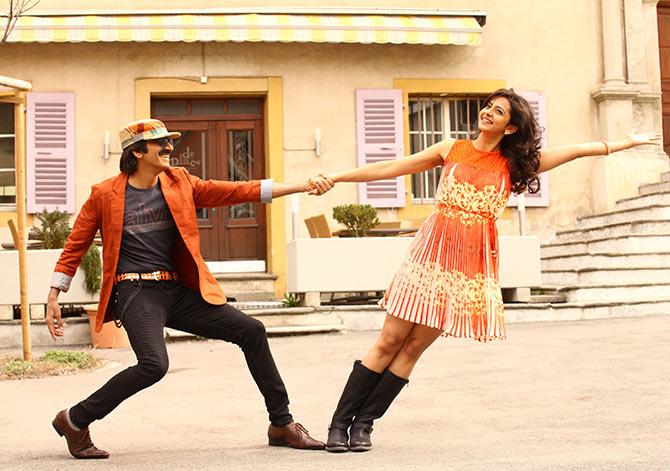 Ravi Teja is happy that co-star Rakul's "films are doing well."
"I had a fantastic experience shooting with her," he adds.
About his other co-stars, he said, "After his appearance in Surendar Reddy's film Race Gurram (starring Allu Arjun), Ravi Kishan is known to the Telugu audience. Rajpal Yadav and Sanjay Mishra have added freshness to Kick 2."
The actor is full of praise for the technical team of Kick 2. "Manoj Parahamsa (Director of Photography) is a major asset to the film. Thaman has given good music -- better than my expectations. There is melody in the music."
Ravi Teja is open to doing multi-starrers, and even directing a film (he started his career as an assistant director). But he says he will not star in the film that he directs.
Right now, though, it's only acting for Ravi Teja and he will continue with his brand of comedy, as "entertainment is his priority!"