Kailash Kher is one of the most successful singers in the Hindi film industry today, a far cry from his struggling days earlier. The singer talks about his struggles which started at the young age of 12, and the way life has changed.
Kher also talked about his favourite music directors, movies and much more with BBC Hindi India Editor, Sanjeev Srivastava, on Ek Mulaqat, a weekly chat show on Radio One. The show will be broadcast at noon, on Sunday, September 16.
Here's a sneak preview.
SS: Your voice sounds like it's coming straight from the heart and soul. How did you acquire such a voice?
KK: Voice is a gift of nature, but I have found a lot of inspiration in life. I have been through several experiences and suffered many setbacks in life. The way the churning of milk separates the cream and the whey, my life has been somewhat like that. After those experiences, what's left of me is attached to the soul. That's why when I sing it sounds like I am singing straight from the soul. The crux of my life's bitter-sweet experiences reflects in my songs.
SS: How did your luck change?
KK: I belong to Meerut and was brought up in Mayur Vihar in Delhi. My parents still live there. I studied at the Delhi University via correspondence and learnt music alongside. When I went to learn music from people, they thought my voice was not good. They said that if I want to enter the field of music, I should learn to play some instrument and forget about singing. So for two years, I learnt to play the guitar, then the tabla. But I couldn't learn anything.
SS: You sing more of Sufi music. How did you decide to sing Sufi music?
KK: First, I used to learn classical music. I felt that I won't be able to learn classical music properly. I didn't know any young musician who had made a name for himself by means of classical music. You need to be old in this. Only after you grow old do you get titles like Pandit and Ustad prefixed to the name. I felt this was a tough path. I belong to a middle class family, and had my own responsibilities. After completing my education, I had to prove myself before my parents that I was capable of doing something. Because of these circumstances, I decided I started singing Sufi music.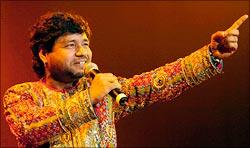 SS: When did you get your first break?
KK:  I had gone to Mumbai to record my album. I met two composers, Naresh and Paresh. I got together with them and recorded songs but I didn't have the money to produce my album. Naresh-Paresh made several people listen to my songs. People were very appreciative and I got a chance to sing for advertisements. My first few advertisements became very popular. Then Vishal-Shekhar heard my voice and called me for a trial. That song was Allah ke bande. It became very popular, and got many awards.

SS: Did you think that you would become so popular with this song?
KK: No. I thought it will just be recorded and forgotten, and this song will never come out because I thought a film song has many instruments and big artists. So how will a song sung with just a guitar find a place in a film? Then, there was some man called Arshad Warsi in the film. I had no idea.
SS: Who is your favourite composer?
KK: Shankar-Ehsaan-Loy, Vishal-Shekhar, and Vishal Bharadwaj are doing excellent work. These days Salim-Suleiman are also giving good music. I also like Naresh-Paresh, who made my albums. Today, the songs from these albums are in demand, not only in this country but also abroad.
SS: Which of the film songs you have sung is your favourite?
KK: It's a song from Mangal Pandey, Tera deewana hoon maula, tera parwana hoon maula.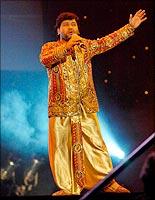 SS: You were seen in Mangal Pandey and also in Corporate. You don't feel like getting into acting?
KK: No, not at all. God has been making me do something or other always. I believe that since the day one was born, God has been making us do everything and we go on doing it like puppets. I am able to see what's happening and that's all. We just made a video, Babambam, where I am dancing with a dumroo in my hand.
Paul Oakenfold is a world famous DJ. He has produced songs of artists like Michael Jackson and Madonna. When he heard Teri deewani and this song, he was very happy. Now he is trying to remix my songs. When you find acclaim abroad, people in India see you with more respect.
SS: It's been a while since you became associated with Bollywood. What do you think is the one good thing and bad thing about the film world?
KK: Bringing together the entire foundations of Indian culture and depicting it to the world is no small task. But we get to see this in Bollywood. People all over the world know Bollywood today. It has become an identity.
SS: What is the bad thing about it?
KK: Once you become famous, you meet a lot of people who start advising you about what's good or bad for you.
SS: Which is your favourite film?
KK: I got very little time to watch films. I kept struggling with my career. I had left home at the age of 12. By the age of 22, I had shifted 20-22 houses in Delhi. Now, I am 32. I did not get the time to indulge in hobbies.
SS: Is there a film that has left a lasting impression on you?
KK: There are many films. Aamir Khan's Lagaan. When I was shooting for Mangal Pandey, I told Aamir that I have never seen his films, but I knew that he was a man of principles. I asked him to recommend me one of his films. The next day, he got me a DVD of Lagaan. I saw it 10-12 times and every time, I was moved by the film. Every actor in the film has acted superbly.
I saw a film Ab Tak Chappan. I liked everyone's acting in that. I also liked Sarkar very much. I like such films where the roles have been very simply enacted.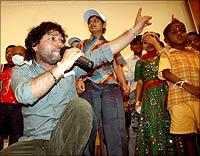 SS: You struggled till the age of 26. How much has life changed?
KK: There hasn't been any time in the last four-five years. I get dinner invitations from everywhere. Recently, the French Ambassador felicitated Amitabh Bachchan. A few select people from India were invited and I was one of those. But I couldn't go. I apologised to the Ambassador. God has given me dinner invitations but has also made me busy.
SS: Who do like most amongst your generation of singers?
KK: Shankar Mahadevan and Sonu Nigam.
SS: Who would you name as your favourite co-singer?
KK: I never thought of that, but I want to sing with AR Rahman. He may have shortcomings in his music levels but he sings from the heart. I like such people who get immersed in their singing.
SS: Apart from music, what else do you love?
KK: I write. I have a habit of reading faces. I observe people's actions. People have got used to newspapers, otherwise there is so much that is written on faces.