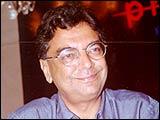 "I can never portray women in a weak role," declares Khalid Mohamed.
That is why his debut film Fiza had Karisma Kapoor, the unreleased Tareekh has Raveena Tandon and his forthcoming Tehzeeb has Urmila Matondkar in author-backed roles.
For this journalist-turned-director, most of his films are a form of therapy. His mother died when he was barely two. Mohamed has no idea whether his father is alive or dead. "He went to Pakistan years ago. The last time I heard from him was when I was ten and he mailed me Rs 10."
| | |
| --- | --- |
| | Don't Miss! |
| | |
In fact, Shyam Benegal's
Zubeidaa
, which was scripted by Mohamed, is largely said to be autobiographical.
Brought up by his maternal grandmother and her sister, Mohamed considers women to be the stronger sex, even physically, if need be. To prove his point, he cites an example from his life: "Years ago, there was a burglary at my house in Malabar Hill. My grandmother hit the robber with a hockey stick and chased him out. I used this incident in my film. Only, I replaced the hockey stick with a cricket bat."
Tehzeeb, he says, is based on real incidents. "I started out to make an acknowledged remake of Autumn Sonata because I was fascinated by the mother-daughter relationship. But the film seemed unreal so I started afresh. I interviewed Shabana Azmi a couple of times and asked her about her relationship with her mother. I also asked her questions that I would have normally asked my mother. Like, why did you not give me enough attention? Why did you go away? Why wasn't my father there? I picked moments from Shabana and my life and adapted the story to Indian tastes."
Azmi offered a lot of insights into her relationship with her mother, actress Shaukat Azmi. She said her mother always paid more attention to her son than Shabana. He would end up getting more toast than she would at the breakfast table. There were even times when Shabana would threaten to walk out of the house. Yet, every time mother and daughter fought, they would leave a champa flower outside their doorstep. 
Mohamed depicted this in Tehzeeb. Matondkar's character offers a flower, but her mother, Azmi, does not accept it.
Tehzeeb
is about the troubled relationship Rukhsana Jamal (Shabana) shares with her daughters Tehzeeb (Urmila) and Nazneen (Dia Mirza). Tehzeeb suspects her mother to be the cause of her father's death and can never forgive her.
She marries Arjun Rampal and moves out. Five years later, Rukhsana visits Tehzeeb and the tensions give vent.
"Tehzeeb is a light-hearted film with flashes of intense drama. It is about a mother-daughter conflict. The mother lives in her own world, and cannot keep in touch with reality," explains Mohamed.
Azmi was the natural choice for Rukhsana Jamal's character: "I've known Shabana since college days at [Mumbai's] St Xavier's though I am slightly junior. I had seen her perform with Farooque Shaikh in college. There was a time it seemed like Tehzeeb would not get financed. There was a delay and I asked Shabana if she would wait. She sent an SMS saying, "Intezar karenge qayamat tak [I will wait forever]. I was so touched. I still have it saved on my cell."
Of course, things were not all roses during the film shooting, says Mohamed: "There were times I wanted to kill Shabana and vice versa! We would have huge arguments. But she was right on most occasions. After shooting, I sent her a message that her inputs were very good. She replied saying since she was not very sentimental, she would only thank me."
Mohamed's debut film Fiza was to star Matondkar. Things did not work out and Kapoor was roped in. Interestingly, Tehzeeb was to star Tabu in the leading role, with Matondkar playing Mirza's role.
"Tabu got busy," explains Mohamed. "For two months, I could not touch base with her. Maybe she didn't like the script. But I still love her. She calls me daddy!"
When Mohamed shifted roles and cast Matondkar, he rewrote the script a bit to suit her character. "Urmila surprised me with her performance. She was all there! I had misjudged her."
He adds, "She [Urmila] didn't tell anyone it was her birthday [once]. She simply continued working because she knew we were on a tight budget. We got to know from one of the crew! So after shooting, all of us went out of dinner."
Mirza plays a mentally challenged girl. The director had known her for a long time. "She used to be a bright-eyed inquisitive kid. Dia wanted to act in the film and agreed for a screen test. She even had sessions with a psychoanalyst to prepare for the role. She did her homework to prove me wrong. I think she suits the role very well."
Mohamed saves the best words for Arjun Rampal. "He's a sweetheart! Very humorous! He is the surprise package of the film. There is a very important scene when he talks to Shabana. That wasn't even there in the original script. He was the cheerleader of the team. If I overslept, he would knock on my door and say, 'Room Service,' to wake me up. When his wife Mehr [Jessia] visited the sets, she said I wasn't so nasty [as she thought]!"
Rampal, the narrator of the film, was to do a guest appearance in the film. But his '20 scenes became a full-fledged role.'
Tehzeeb
was shot in Mumbai, Lonavala and Alibaug over 38 days. The house used in the film had beautiful bougainvillea plants. Impressed, Mohamed he made the flowers part of the film publicity.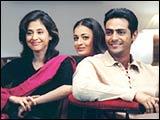 Moahmed recollects, "We didn't know what was happening on the first day of shooting! The second day was better. We rose to a different plane. We had to re-shoot the first day's shooting."
"There was this scene when Shabana's narrates a poem written by her father [late] Kaifi Azmi, near a fish bowl. At that moment, the sun came out and shone on the fish bowl. The shot looked golden. We were awestruck. I also love the moments of silences in the film when people communicate with their eyes."
Mohamed admits the toughest part was to portray a cool image to everyone. Inside, he thought he was 'going to die.'
Tehzeeb
opens on December 5 and Mohamed has made his plans. "I will take my first holiday in 25 years. I will go to Delhi, Dehradoon and Mussooree."
He also plans to start work on his next film, Raaj, to be produced by Vashu Bhagnani. Mohamed claims this film will be male-oriented, unlike his other films and will star Arjun Rampal. This thriller will be shot in London and Paris in the summer.
And yes, Mohamed does view films differently as a film critic now that he is a filmmaker: "Direction has made me a better critic. I know when the director is lazy. I know what goes into filmmaking better, instead of judging from an ivory tower."
Click here for More Features