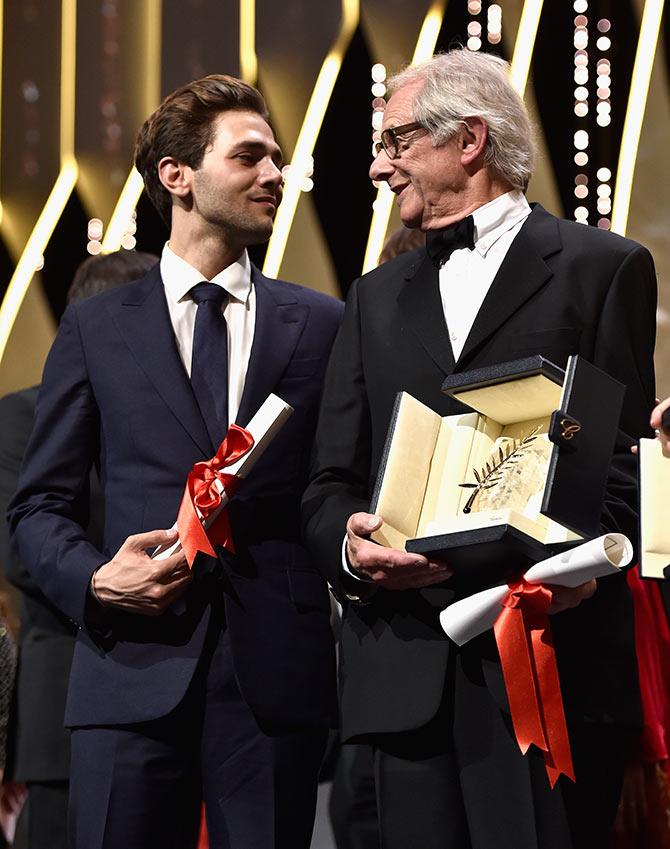 British director Ken Loach won the Palme d'Or prize at Cannes for the second time in a decade, with his moving drama I, Daniel Blake which is about the shame of poverty in austerity-hit Europe.
The award marked a major upset at the world's top film festival in favour of the left-wing director, who turns 80 this year and is known for shining a light on the downtrodden.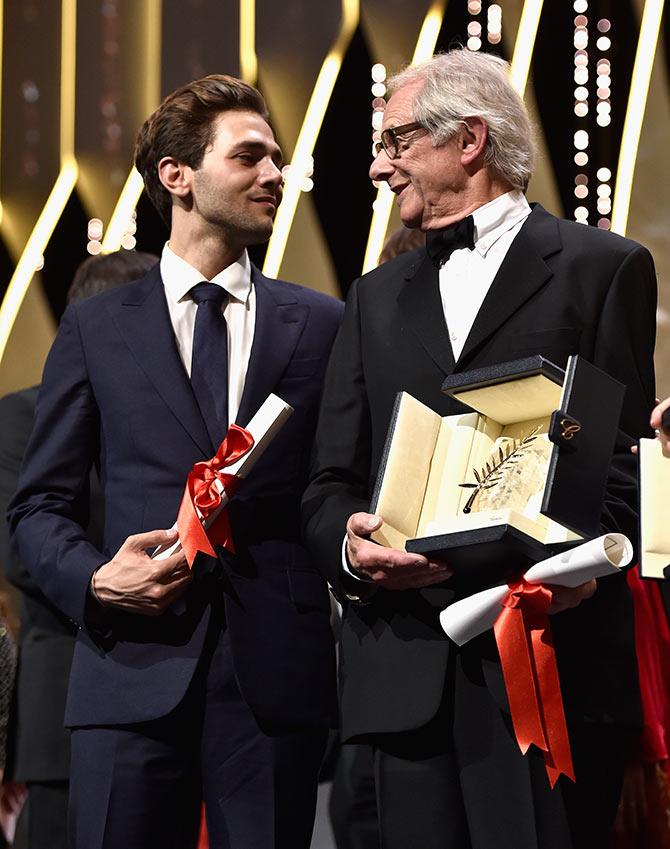 IMAGE: Xavier Dolan and Ken Loach on stage after accepting their awards. Photograph: Pascal Le Segretain / Staff Getty Images
He beat out runaway favourites including the rapturously received German comedy Toni Erdmann by Maren Ade, one of three women directors in competition, and US indie legend Jim Jarmusch's Paterson starring Adam Driver as a poetry-writing bus driver.
Both left empty-handed. Loach now joins an elite club of two-time victors at the French Riviera festival including Luc and Jean-Pierre Dardenne and Emir Kusterica.
"We must give a message of hope -- we must say another world is possible," Loach said as he accepted the prize.
The runner-up Grand Jury prize went to Canadian wunderkind director Xavier Dolan, 27, for his hot-tempered family drama It's Only the End of the World featuring a cast of A-list French stars which had been widely panned by critics.
IMAGE: Director Andrea Arnold addresses the audience at the closing ceremony of the annual 69th Cannes Film Festival. Photograph: Pascal Le Segretain / Staff Getty Images
Britain also claimed the third-place Jury prize, for Andrea Arnold's high-energy American Honey starring Shia LaBeouf in a tale of disadvantaged US youths selling magazines door-to-door.
The best director prize was shared by Romania's Cristian Mungiu for his drama "Graduation" about the moral rot of corruption in a post-communist society, and France's Olivier Assayas for his supernatural thriller Personal Shopper with Hollywood phenomenon Kristen Stewart.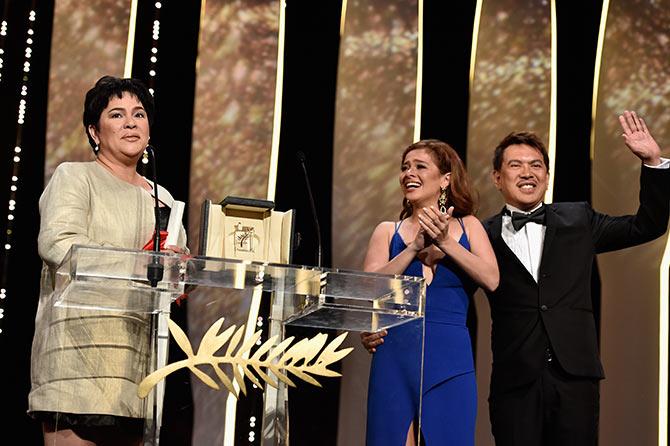 IMAGE: Jaclyn Rose on stage with her daughter Andi Eigenmann and director Brillante Mendoza. Photograph: Pascal Le Segretain / Staff Getty Images
Philippine star Jaclyn Jose won best actress for her mesmerising performance in Brillante Mendoza's Ma' Rosa as a mother selling drugs to survive who falls prey to corrupt police.
Iran's Shahab Hosseini clinched best actor for Asghar Farhadi's taut moral drama The Salesman, about a married couple thrown into turmoil after the wife is attacked in their home.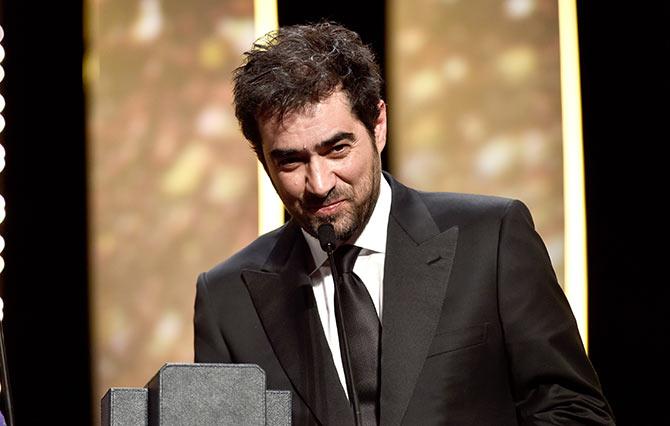 IMAGE: Shahab Hosseini. Photograph: Pascal Le Segretain / Staff Getty Images
Farhadi also scooped the screenplay honours.
Hosseini had also starred in Farhadi's breakout success, 2011's A Separation, which won an Oscar for best foreign language film.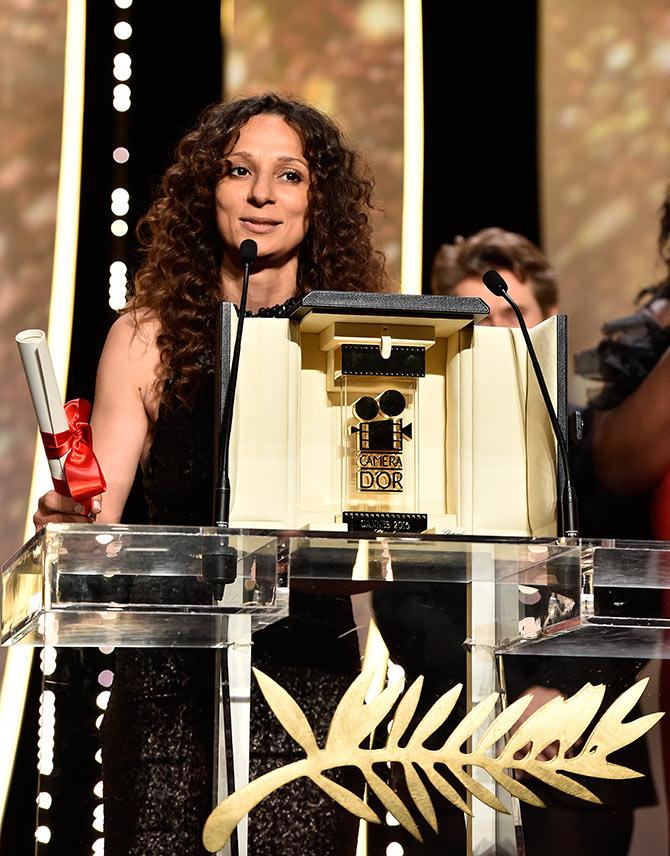 IMAGE: Houda Benyamina gives a speech after accepting Camera d'Or award for her film Divines. Photograph: Pascal Le Segretain / Staff Getty Images
Divines, a gripping drama about a young French teenage girl from a tough immigrant suburb who dreams of getting rich quick, got the nod for best first film, the Camera d'Or.
Directed by Houda Benyamina, it starred her sister Oulaya Amamra.