She started her creative life by making advertisements for corporate firms, but always believed her future lay in making features.
Kavitha Lankesh has always impressed. Her first film Deeveeri (based on a story written by her famous father, the late writer P Lankesh) won the Best Regional film award at the National level, besides winning the Best Film award from the Karnataka government. Many more laurels followed her, including the Aravindan Puraskar for the best debut film.
Alemaari, made for the National Film Development Corporation, was previewed at many prestigious film festivals. Her next, Bimba, which dealt with the exploitation of child artists in the film industry, won her the Best Screenplay award from the Karnataka government. She received another National Award for Preethi Prema Pranaya, where she directed experienced artists like Anant Nag, Prakash Raj, and Bharathi Vishnuvardhan. The film dealt with problems old people face.
In this interview with R G Vijayasarathy, Kavitha Lankesh talks extensively about her new film Tananam Tananam, a romantic musical based on a story by legendary Tamil writer Kalki. Excerpts:
From art films to commercial ventures, you seem to have changed tracks now. You have two top heroines in this film. Do you feel commercial films with bigger stars are better vehicles to reach people?
I have always made films to reach people and all my films except Alemaari have been released in theatres and been widely appreciated. My first film Deeveeri based on my father's story Akka ran for 50 days in Bangalore, and there were many people who told me that they were watching a Kannada film after 10 or 12 years. My film Prema Preethi Pranaya ran for a hundred days.
My opinion is that every film is a work of art. I do not believe in labelling them. I have done films with songs, emotions and  lots of comedy, but I don't think their critical value has been reduced because of such elements.
I selected the two heroines for Tananam Tananam only because they fitted my script and were ready to mould into the characters of the script. 
The heroines Rakshitha and Ramya were not at all close. In fact, they fought through media interviews. Still, you managed to work through the chaos...
It is quite obvious that I chose to ignore their fights in the media when I decided to approach them. I was frank, transparent and honest when I spoke to both Ramya and Rakshitha. I gave both of them bound scripts and was very specific in telling them that they should do the roles for which they were selected. Both were happy with the way I explained the importance of their roles. I can now say both Ramya and Rakshitha will get a lot of applause for their efforts. Rakshitha trained hard to get her dance movements right.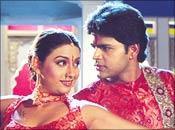 The male lead Shaam has acted only in Tamil films. Why did you choose him for this film when you could have signed a better known hero from Kannada cinema?
Frankly speaking, I did contact some established big heroes of the Kannada film industry.  But they were a little apprehensive about accepting this film. I think heroes should mould themselves for a  variety of characters. What is the point when a hero thinks only of his image? When a good script offers him a role with substance, he should learn to accept it. But there is no point in saying this; the film is now ready for release. 
Shaam is basically a Bangalore-based artist and it is just a matter of statistical interest that he has acted in nine Tamil films. He is a good actor who proved his mettle in films like Ullam Ketkume. He is exceptional in my film and will go places in Kannada films after the release of Tananam Tananam.
You have described  Tananam Tananam as a musical love story. All your four films have dealt with some serious issues, but this new film seems to be just a commercial exercise?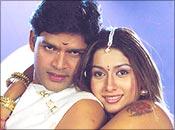 The story of Tananam Tananam has universal appeal. You know, I have always been making films with unusual subjects. I was searching for a story with some unusual elements when I found one that was to my liking. It was written by popular Tamil writer Kalki. Kalki has written many historical novels, but here's a story that struck the right notes for my script.
After obtaining the permission of Kalki's granddaughter for filming his story, I started writing the script. There is the right blend of emotions and good elements in the story. When you have a good story, a strong foundation is laid, and after that it is not very difficult to write a good script. 
If you still want to call Tananam Tananam a commercial exercise, I don't mind this label. All my films so far have been commercial exercises. I don't want to make films for 10 critics and earn an award for that. I don't find any reason to make films which are not seen by people in the theatres.
Tananam Tananam has a professional theatre backdrop and the content of the film clearly makes the point that classical forms of music and dance have to be revived and strengthened.  How can you say a musical love story can't have any serious issue in its narration? 
You have chosen popular lyricist K Kalyan as music director.  Music was a strong element in your Preethi Prema Pranaya also. Do you feel Kalyan's music will elevate the film? Is it true that you have used music maestro L Subramaniam's violin in the film?
Certainly, Kalyan's music will elevate the film. He has done a great job. I was particular that Kalyan has to do music for this film mainly because he had suggested the title of the film after hearing the story. The title perfectly suits the story. My confidence in Kalyan has proved right. Most people who have heard the songs have gone ga-ga over it. Kalyan's lyrics have also added some strength to the music of the film.
I have to thank music maestro L Subramaniam for agreeing to my request to use some of  his musical bits in my film. They were very important to the script. I narrated the whole script to L Subramaniam after which he understood that the violin is very important in the film. And it was very nice of him to agree to my request.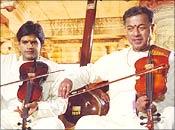 Many theatre artists star in the film besides experienced actors like Girish Karnad and Bharathi Vishnuvardhan. But your favourite actor Prakash Raj, part of all your earlier films, is missing...
My producer N M Suresh suggested that I have professional and amateur theatre artists for the film as it has a theatre background. Their performances have really added a lot of strength to the film. Veteran artists like Girish Karnad and Bharathi Vishnuvardhan play a musician couple in the film, and both of them have done a commendable job.
Yes, I also missed Prakash Raj in this film. I could not fit him in the script, though he would have been happy to be part of this project despite his busy schedule. I cannot forget his support because for a film like
Alemaari
which was made under a shoestring budget for NFDC, he took only one rupee as remuneration.