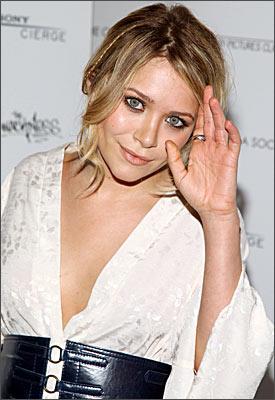 'If she has nothing to hide, why'd she ask for immunity?'
That's the question dominating tabloids and gossip sites this week, after it emerged that actress Mary Kate Olsen has demanded legal immunity from investigators who seek to question her regarding the death of Dark Knight star Heath Ledger.
The UK Independent reports that Olsen has twice told Drug Enforcement Administration (DEA) officers 'that she will only give evidence about Ledger's death if they grant her immunity from any future prosecution.'
For some time now, it's been known that Ledger overdosed on a lethal cocktail of prescription painkillers, sleep aids and anti-anxiety medication. What's not known is how exactly he got a hold of two of the most powerful pills found in his body. DEA officials reportedly have confirmed prescriptions for all of the drugs, with the exception of two opiate-based painkillers: OxyContin and Vicodin.
The Australian actor and Olsen were close friends, even rumoured to have been seeing one another on a romantic level. When a masseuse discovered an unresponsive Ledger at his Manhattan, New York City apartment, the first person she called was Olsen. While that alone suggests Olsen's intimacy with the situation, Mary Kate's decision to send her personal bodyguard to the scene rather than phone emergency services has further raised eyebrows.
This tidbit, coupled with Mary-Kate's recent reticence, has sparked speculation that the former child star knows crucial details surrounding the star's death.
With the spectre of suspicion firmly trained on his client, Olsen's attorney, Michael C Miller, responded Tuesday, saying the actress had nothing to with drugs found on the nightstand next to Heath Ledger's body.
'Despite tabloid speculation, Mary-Kate Olsen had nothing whatsoever to do with the drugs found in Heath Ledger's home or his body, and she does not know where he obtained them,' Miller reportedly said. 'Regarding the government's investigation, at Ms Olsen's request, we have provided the government with relevant information including facts in the chronology of events surrounding Mr Ledger's death and the fact that Ms Olsen does not know the source of the drugs Mr Ledger consumed.'
Olsen, who with her identical twin sister Ashley became famous as a child star of the television sitcom Full House, earlier released a statement regarding the death, which said: 'Heath was a friend. His death is a tragic loss. My thoughts are with his family.'
It's been reported that everyone else connected with Ledger and his untimely death -- family, friends, doctors, etc -- have voluntarily co-operated with the investigation.
Photograph: Stephen Lovekin/Getty Images