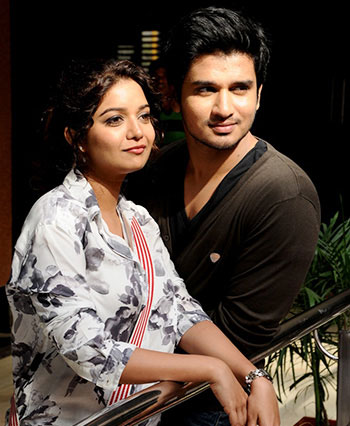 After making his debut with Sekhar Kammula's Happy Days, Nikhil Siddhartha went on to do 10 films in seven years.
Nikhil's last film, Swamy Ra Ra, with Swati, and directed by debutant Sudhir Varma, was a hit.
The same lead pair has acted in the Telugu-Tamil bi-lingual Karthikeya, directed by Chandu Mondeti. The film releases on October 24.
In this exclusive chat, Nikhil talks about Karthikeya, his co-star Swati, first-time director Chandu and completing 10 films.
How did Karthikeya happen?
My last film Swamy Ra Ra, which was a hit, gave a huge boost to my career.
I got lots of offers after that and heard many stories. I didn't hurry to sign.
The story of Karthikeya was different, like Swamy Ra Ra. It's got mystery, science fiction and fantasy.
You seem to be working with new directors. Chandu Mondeti, too, is new...
There is no particular reason for doing so. The top star directors are busy.
It's my duty to find the next top directors. Working with such people has paid off.
Directors Parashuram and Sudheer Varma (who he has worked with) made good films. I have no problems working with new directors.
Why was Karthikeya made as a bi-lingual?
There are many reasons. The subject of the film is universal. The story is set in a village on the border of the two states.
Swati has already acted in Tamil movies. Editor Mohan, who is famous in Tamil and Telugu, encouraged us to do it in both languages. It was shot in Tamil Nadu also.
Was it shot as two films?
Yes, we shot the same scene twice. Actors like Tanikella Bharani, Thulasi, Kishore and JP were also taken.
How did you cope with the language in this, your first Tamil film?
The Tamil film will be released in November. It wasn't too tough. I rehearsed the dialogues.
The action scenes didn't have many dialogues.
What's Karthikeya about? Is it a crime thriller on the lines of Swamy Ra Ra?
No. When I was young, films like Bhairava Dweepam and Aditya 369 fascinated me. Later I liked watching Sherlock Holmes. That character was curious and inquisitive. Karthikeya is all about mystery and adventure; it's a light-hearted subject.
There are problems in a temple in the fictitious village of Subramaniapuram. People are dying there. The hero enters the village and gets embroiled in events there.
You play a doctor in the film. How did you train for it?
I met some medical students at OsmaniaMedicalCollege. They gave me live demonstrations of basics like how to use a stethoscope, how to give injections and so on. I hung around for about two-three days.
I had to put on 10 kilos and also some muscle for this role.
How was teaming up with Swati again after Swamy Ra Ra?
The best part is Swati is a Telugu girl and one could converse with her in Telugu.
Since our previous film was a hit, we are hoping people will watch the pairing again and hope it will work out.
Swati is doubly careful about the scripts she selects and I was confident when she said yes to Karthikeya.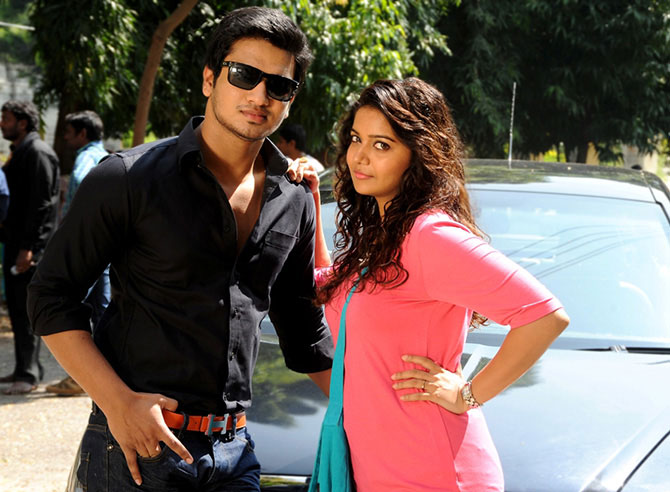 How was Chandu Mondeti as a director?
I have known Chandu for a decade now. As a person he is very funny. He makes people laugh.
I knew he would make an entertaining film, but he has woven many elements into the film. I was a bit sceptical of his direction skills, but I found he was good.
Your previous film Swamy Ra Ra was critically acclaimed and commercially did well too...
Getting a commercial hit is okay. Getting critical acclaim is also okay.
Getting both together is difficult.
I was happy. I am praying that it happens again.
What are your thoughts on the release of Karthikeya?
It's releasing in the auspicious month of Karthika (Lord Shiva's month; his son is called Karthikeya).
Diwali is my favourite festival and the film is releasing at the same time.
It's double happiness and double nervousness too!
What films are you working on now?
I am doing Surya Versus Surya. It's about 60 per cent done.
I am waiting for Karthikeya to release before taking on other projects.
You have completed seven years in films now...
Yes, I have done 10 films in seven years. I want to increase the number of films I do.
Happy Days brought me on screen. I have made mistakes but matured as an actor. I will be careful.
It's great to be doing lead roles. I wanted to see myself on screen once and that led to many more and I have done 10 films now!