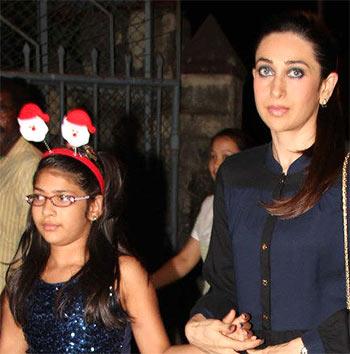 Say hello to Bollywood's new talent Samiera, Ibrahim and Kaveri!
Bollywood will soon be introduced to three new talents -- Karisma Kapoor's daughter Samiera, Saif Ali Khan's son Ibrahim and Shekhar Kapur's daughter Kaveri.
The youngsters have made a film called Be Happy, and it will be showcased at the 19th International Children's Film Festival India in the Little Directors category.
Be Happy, like the title says, tells children across the globe to 'be happy' with what they have.
It is the story of a girl who is out shopping, and begins to feel jealous of other children, who buy expensive items that she cannot afford.
Later, when a child tries to snatch her jacket, she realises that someone else is feeling jealous of her as well.
The film was made in 2013 at the Purple People Labs, Young Filmmakers Academy Program. Children in the age group of six to 16 years were mentored to pitch-script-shoot this film within 12 hours across two days.
Shanaia Munim, 12, conceptualised the story and is the lead actor as well.
Kaveri Kapur, 12, managed the production side and worked on the script.
Samiera Kapoor, seven, and Rehaan Mehta, 17, are the cinematographers and have acted in the film too.
Zain and Iman Bhanji have acted in the film and are sound managers as well.
Ibrahim Ali Khan was a part of the creative team.