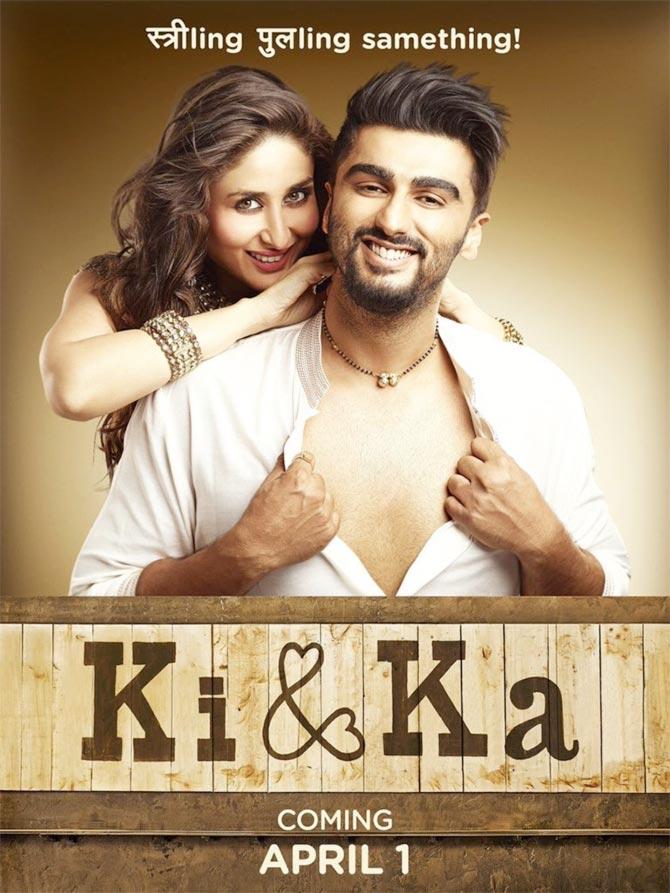 Kareena Kapoor is seen kissing her co-star Arjun Kapoor in the poster as well as the trailer of her new film, R Balki's Ki and Ka.
That's surprising because Kareena had said that she will not kiss onscreen post her marriage.
When offered Sanjay Leela Bhansali's Bajirao Mastani, Bebo had made it clear that she would not do any intimate scenes with Ranveer Singh now that she was the begum of the Pataudi khandaan.
In fact, in Prakash Jha's Satyagrah an intimate scene with Kareena and Ajay Devgn was toned down.
Director R Balki shrugs off all suggestions of special concessions from the dignified diva.
"Kareena and Arjun play husband and wife in my film. So what do husband and wives do? They show affection with a kiss, right? How else should Kareena and Arjun behave while playing man and wife?" he asks.
Balki says the question of whether to kiss or not did not even come up for discussion.
"Bebo and I didn't even discuss this. The pecks and kisses are a given in any marriage. How could I show an urbane evolved married couple in Delhi not doing the normal things?"
"Bebo didn't even ask me why her character had to kiss her screen husband. It's basic logic. Why are we making such a fuss about it?" he adds.
"Most films about marriage are dark and unhappy. I wanted to make a happy, sunny film on marriage. Arjun and Kareena are the ideal spouses. In fact, my wife (filmmaker Gauri Shinde) is already asking me why I can't treat her the way Arjun treats Kareena in Ki and Ka. So I see major trouble for husbands after the film's release," he says.