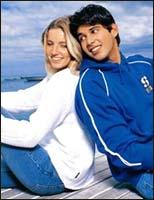 When Karan Sharma's film hoardings advertising Dil Jo Bhi Kahey were being put up across Mumbai, he couldn't believe he had finally become an actor.
The son of producer Romesh Sharma, Karan wanted to be an actor since he was a child. "At present I have mixed feelings," he says. "I am very excited about seeing my posters and promos but, at the same time, a bit nervous about audience reactions."
Dil Jo Bhi Kahey stars Amitabh Bachchan, Bhumika Chawla, Revathi and British actress Annabelle Wallace. It is set for release later this week. The film is about an Indian family based in Mauritius. The son in the family (Karan) goes abroad for further studies and falls in love with a British girl. When he returns home, there is a clash of cultures.

"My role is that of a son who argues with his parents about Western values. When they are keen on sending their children abroad, how can they not expect them to be influenced by another culture?" asks Karan. The Big B plays the role of Karan's father who shares a good relationship with him and wants him to have the best of things in life.

Sharing his experience of acting with the Big B, Karan says, "I was confident I would be able to give the shot in front of Amitji, but others on set constantly nagged me, saying I wouldn't be able to withstand his personality."
Recalling his first shot with Amitabh, Karan says, "There was this hospital scene where he comes and tells me 'Tumhe chale jaana chahiye tha'. I had no dialogues in the scene. I just had to walk away. When I recall that scene today, I realised that I would have made a mistake if Amitji had not given me 15 seconds to react to his dialogues. As an actor, he always gave me this scope of learning without telling me what to do. I think that is his greatness as an actor."

When asked what he thinks will work for the film, Karan promptly replies, "There are two things. Firstly, the perspectives of youth and an older generation. Secondly, the chemistry between Anna and me. Whenever a love story has worked, the chemistry between the hero and heroine click in a big way."

As for future plans, he says, "At present, I am still discovering myself as an actor. I am waiting to see how audiences respond to my film. I am ready to try comedy, action, or any other genre. I will keep working with films unless people force me to change my career."