'We have been getting e-mails for assignments and events. People from random islands, like Seychelles, called us to perform for India's independence day. It's crazy to see how the internet affects the world.'
'We feel blessed that so many people recognise us. We have even got mails from low-budget feature film makers in the South -- like they want us to be the heroines!'
Twins Poonam and Priyanka Shah give us a jhalak into their lives!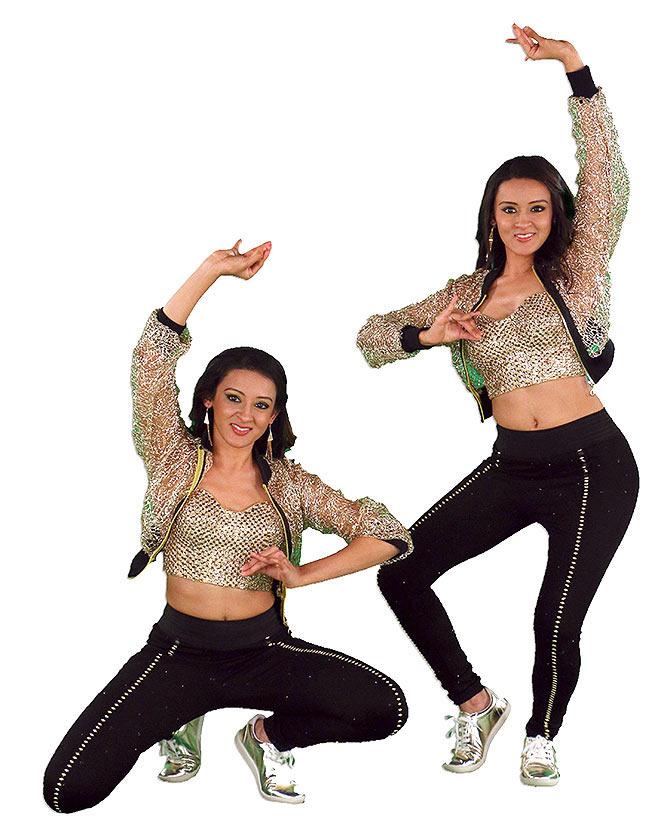 IMAGE: Poonam and Priyanka Shah on Jhalak Dikhhla Jaa 9.
Hardworking twins Poonam and Priyanka Shah, 24, who hail from Chicago, entered Indian dance celebrity show Jhalak Dikhhla Jaa 9. Their dancing skills received loads of praise from the Bollywood judges, especially from Jacqueline Fernandez.
They stood out among the contestants for presenting a spectacular fusion of Bharata Natyam and hip hop to Pinga from Bajirao Mastani as their opening act in the first week.
As the weeks passed, the girls cemented their position as fusion queens with even their final performance being a Bollywood-hip hop fusion to Choli Ke Peeche Kya hai. The twins were recently eliminated, after staying two weeks on the show.
Priyanka and Poonam were born in Canada, but grew up in the Midwest in an immigrant family. Their parents own several motels in Chicago and work as a team managing them.
The twins were brought up to embrace their Indian roots and were very much part of Chicago's Jain society. Learning Bharata Natyam was, therefore, not unusual for them.
Remembers Priyanka: "We had many Indo-American friends. Our American friends thought having a different culture was such a cool thing."
Dancing was always a passion, but like so many desi children their degrees, from the University of Illinois, Urbana-Champaign, are for another field. Priyanka did accounting and management, Poonam finance and management.
In college, they were part of a "fun" Bollywood fusion dance team. The team entered the competition Bollywood America and they went to Los Angeles, New York and many other cities.
Says Priyanka: "We performed like four or five dances a year -- so it was a lot of dancing. This year we were called to judge the competition. Everything comes full circle and it was so nice. We are popular in that sense."
Hip hop was also an interest. The twins spent six months picking up some steps at Movement Lifestyle and Millennium dance studios in Los Angeles.
"People (in India) think we are so good at hip hop. We are just beginners," says Priyanka.
Their YouTube video of a fusion sequence changed everything for these 24 year olds and brought them to India for their longest trip yet.
Poonam and Priyanka speak to Rediff.com contributor Rajul Hegde about their journey -- their desi-ness, the video that changed their life, what worked on Jhalak, what didn't and who they are: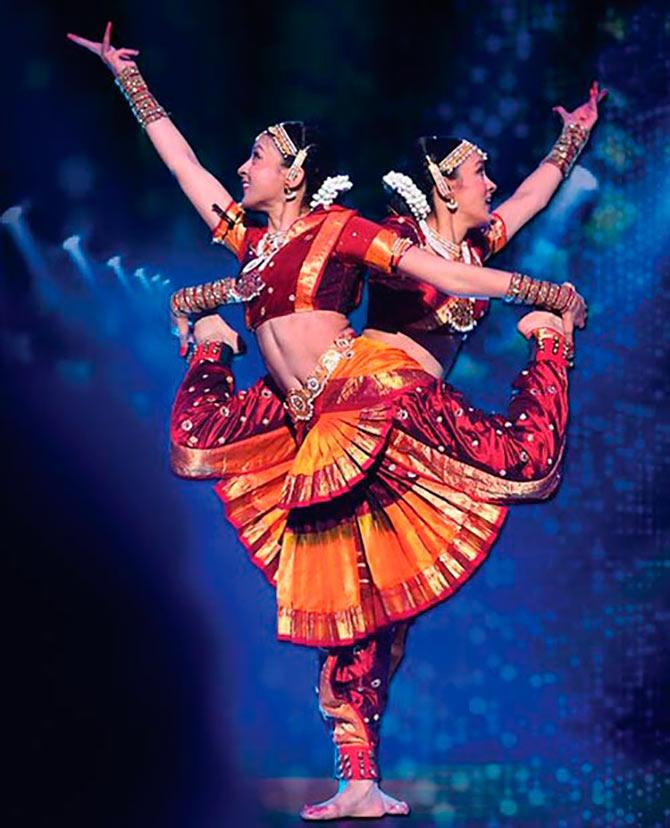 IMAGE: Poonam and Priyanka Shah on Jhalak Dikhhla Jaa 9.
How did Jhalak Dikhla Jaa happen?
Poonam and Priyanka: Everything happened because of our social media presence and YouTube videos. Three months ago our Facebook video -- Bharata Natyam Popping Fusion -- which we recorded on a phone, and uploaded, went viral.
We ended up getting 5 million hits in a week -- all our friends were sharing it. What was shocking for us was: Our American friends, who don't know much about Indian dance forms, were also sharing it. Even our favourite artist (singer) Chris Brown shared the video. That was beyond amazing! It was crazy. We were wondering what in the world is going on.
Jhalak approached us to come as separate contestants. We told them we want to come together on the show. When we dance together, we have that magic. Separate is also good, but doesn't have the same effect.
We are proud of the fact (as twins) we dance the same way, when we dance together gives it a different feeling altogether.
Go on...
Poonam and Priyanka: After that we were contacted by lots of shows. America's Got Talent, India's Got Talent, MTV India. We chose Jhalak Dikhhla Jaa because it's classy, glamorous and has a good reputation.
Even before (our video went viral) we auditioned for (Indian reality competition) Dance Plus in 2015. They called us on the basis of one (YouTube) video, Ramta Jogi. We were thinking of auditioning for Dance Plus Season 2 but Jhalak happened.


Poonam and Priyanka Shah show their fusion dance of Bharata Natyam and hip hop. Video: Afsar Dayatar.
What's it like to take part in an Indian dance reality show?
Poonam and Priyanka: It's been surreal. We are new to television. It was a great experience overall -- meeting everybody, getting wisdom, understanding how everything works.
It was hard. (Jhalak) didn't give us a choreographer. (According) to the format of the show, one of us was the choreographer. It was doubly challenging. Though we are dancers, we were not used to choreographing and practicing in four days for a performance.
How difficult was the choreographing, since you are not a professional one?
Priyanka (who was the choreographer): It's erratic. Even for our videos, we can sit for hours and not come up with anything. Sometimes it just happens in 30 minutes.
When you have a deadline to meet, you can't sit for five hours and not think of anything. There was so much pressure we were unused to. The first performance we did was kind of our forte. But once we branched out to different styles, it got really (tough).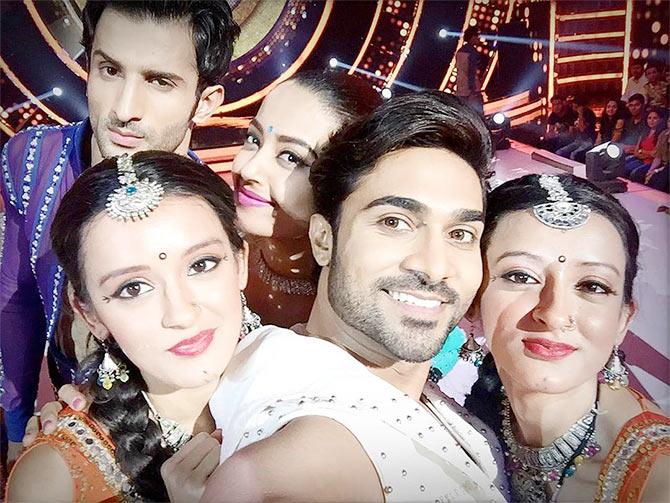 IMAGE: Poonam and Priyanka Shah take a selfie with Sidhant Gupta, Surveen Chawla and Salman Yusuff on the sets of Jhalak Dikhhla Jaa 9. Photograph: Poonam and Priyanka/Instagram.
What did you learn from the other celeb contestants and choreographers during the show?
Poonam and Priyanka: First and foremost: They were always happy and cheerful, no matter what situation they were in.
Everyone's stressed about their acts. Worried too. The trick is not be stressed and just be happy. (Then) none of the pressure affects you. No matter how big they are, all of them were working hard. That was motivating for us.
Who is your favourite dancer on the show?
Poonam and Priyanka: Shantanu Maheshwari. He has that hip hop kind of style. Salman Yusuff Khan is also is a very good dancer.
Was it disappointing to get eliminated so early?
Poonam and Priyanka: We were there for four episodes. Initially, yes. We didn't expect to get eliminated so early. We definitely did something good on the show. Everybody loved our first performance. We are grateful we got an opportunity to come here and perform. Even if they had told us that you are going to be on the show for only two episodes, we would have been like: "Ya, ya let's go!"
Are you coming in as wild card?
Poonam and Priyanka: We haven't been told about it. We will definitely come back for the finale.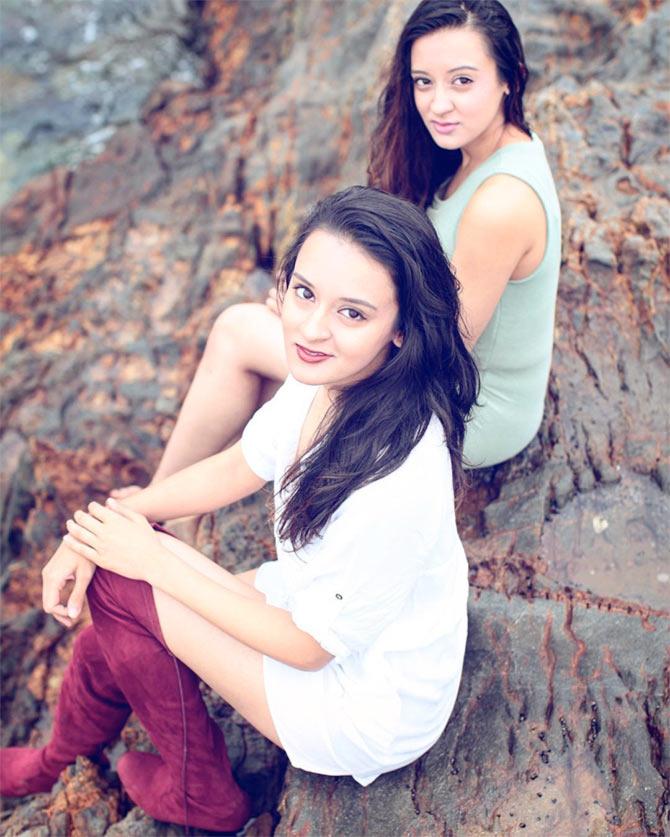 IMAGE: Poonam and Priyanka Shah. Photograph: Poonam and Priyanka/Instagram.

When will you head back to America?
Poonam and Priyanka: We were planning to go back to the US for a month in between. But then we got a choreography assignment in the South.
This (is for an) actor prominent in the South who is launching his daughter. He was recently in Mumbai to shoot a sequence for his daughter's film. We went to his apartment to discuss the choreography. His entire family was very nice.
His daughter loved our choreography and she wants us to do an introduction piece for her in our indo-fusion style. We are probably going to Chennai in next few days and (will) then go abroad for the shoot.
How has your life changed in the last three months?
Poonam and Priyanka: We have been getting e-mails for assignments and events. People from random islands, like Seychelles, called us to perform for India's independence day. It's crazy to see how the internet affects the world.
We feel blessed that so many people recognise us. We have even got mails from low-budget feature film makers in the South -- like they want us to be the heroines (smiles). It's a crazy thing to navigate.
We want to build the brand Poonam and Priyanka. We have to decide what we want to do for it and how we should position ourselves. It's been crazy, right now, because we have no manager. We are looking at different management companies and agencies around here. It is hard to sign a contract for so many years.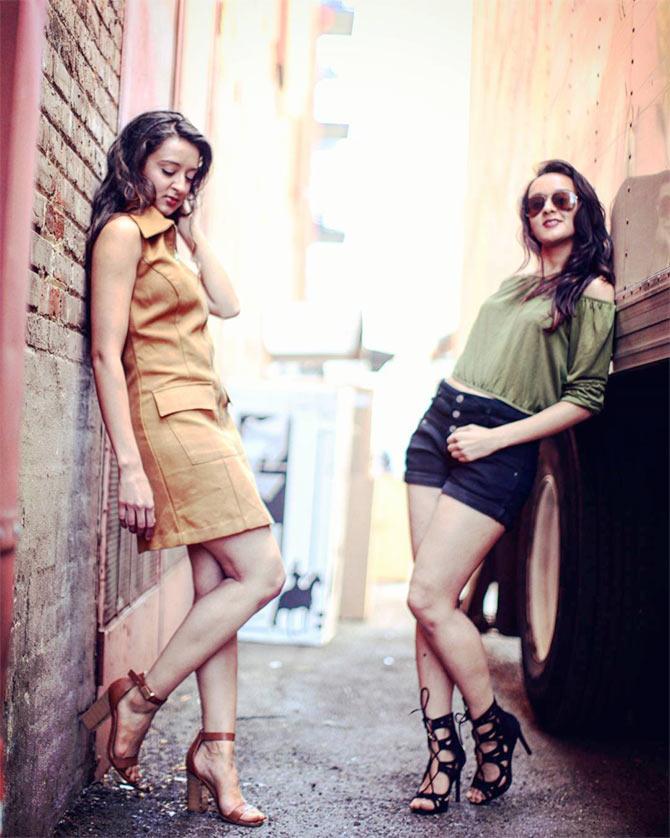 IMAGE: Poonam and Priyanka Shah. Photograph: Poonam and Priyanka/Instagram.

When and how did you both start to dance?
Priyanka: When we were nine. Our mom was passionate about dancing; she had learned Bharata Natyam and enrolled us with a family friend and Chicago-based dancer, Mohana Swamy.
In the beginning, we didn't want to do Bharata Natyam. She had to bribe us. As it progressed, it became a kind of a beautiful way for us to connect to being Indian and stay in the Indian culture. After five years with Swamy, we learned under dancer Kshama Shah, MudraDanceAcademy for four years.
Poonam: Even when we went to South India three months ago, for the first time, we felt very connected. It was more like our home. Totally comforting to be in South India, eating and watching South Indian films. That was the beautiful thing about Bharata Natyam for us.
How did your family react to your Jhalak opportunity?
Priyanka: My dad called everyone before Jhalak and said please watch Jhalak Dikhhla Jaa and tweet. They were like what's tweeting? (Laughs).
The younger lot have watched the videos and are like: "You guys have got so many hits."
All our relatives are excited. It's cool for them to see someone they know on TV and talk to (director, producer) Karan Johar.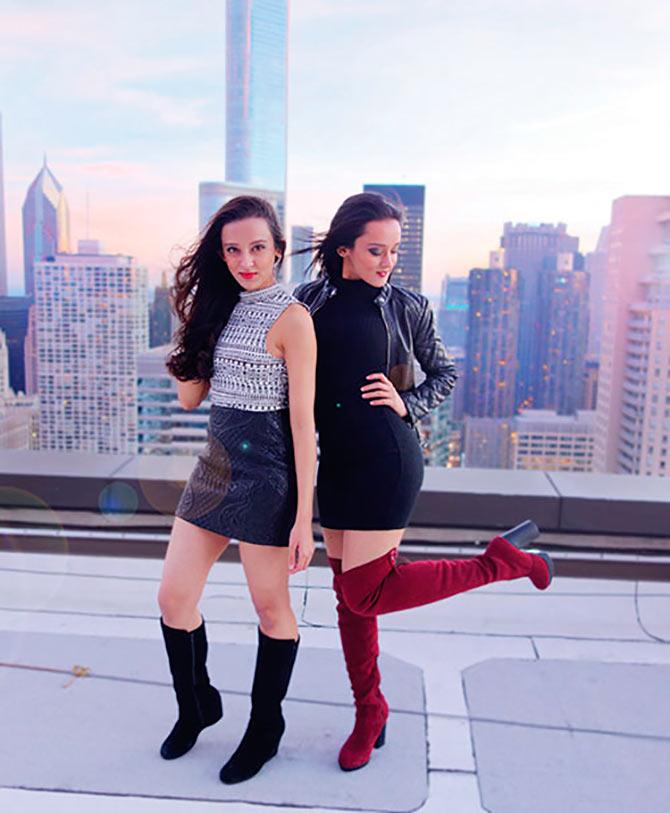 IMAGE: Poonam and Priyanka Shah.

How did it happen that you grew up in Chicago to Gujarati parents?
Priyanka: Dad went to the US when he was in his early 20s after his graduation. He first (worked) cleaning hotels and then worked his way up the ladder, made contacts and asked for business.
My grandfather came to Mumbai from Gujarat to become an actor. His family kind of dragged him back. He always wanted to see his grandchildren on TV. Or something related.
Even my dad wanted to work in Gujarati serials. We are fortunate that we have a family who supports us
Poonam: We have two younger brothers -- one is 17 and the other is 13; both in school and are computer geeks. They are like we have seen our sisters in pajamas at home. Now they are on TV, what's going on? (Laughs) But they are also happy for us.
What's it like being twins?
Poonam: People think we are identical, but we are fraternal twins. After two weeks, you can see the difference. In school and college, we were both good at the same things. It's not like a real advantage. The teacher thought we were cheating since we have got the same questions wrong. We think similarly.
Priyanka: We have worn similar clothes for some years. Now we have come to the stage where we tell each other to change if it's too similar... When we are shopping, we go to the opposite ends of the store. If we pick up the same stuff, we are like: Who picked it up first? (laughs) Sometimes we like the same stuff; we try hard to keep our wardrobe different.
Poonam: She steals my clothes all the time. But I occasionally steal her clothes.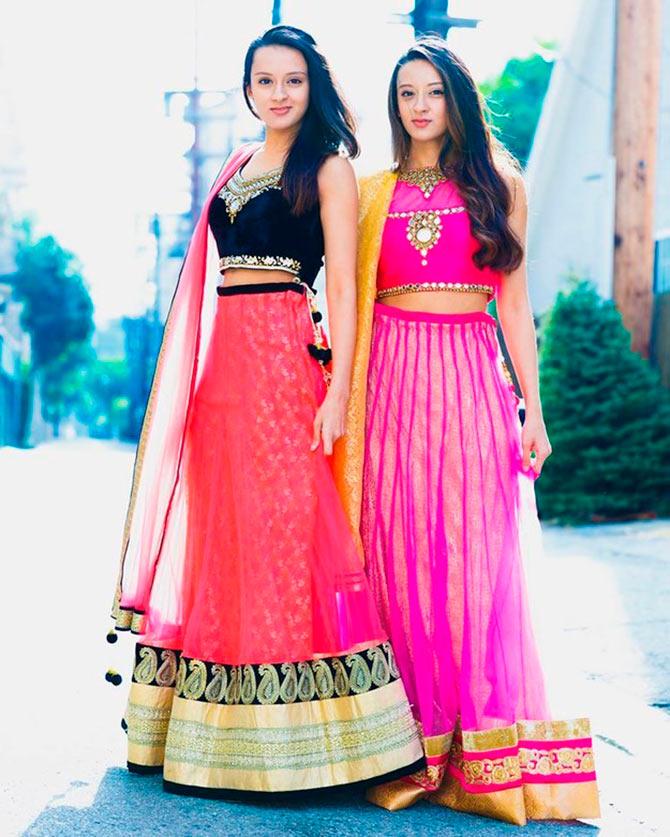 IMAGE: Poonam and Priyanka Shah. Photograph: Poonam and Priyanka/Instagram.

Did you both visit India often when you were younger?
Priyanka: As kids, we came like once in three or four years during vacation to Surat (parents' home town) for three weeks.
What are your memories of Surat?
Poonam: Flying kites. Eating ice creams. Visiting relatives. Eating lots of food -- everyone forces you to eat.
There was no WiFi. We both died without WiFi. It's a different world. Mumbai is Westernized but Surat was more like before the internet era (laughs).
Attending weddings -- seeing how it happens -- was so much fun in India. The weddings in India are just on another level. That's main thing you miss out on when you go (back) to America. You can try to (transpose) the culture, like Navratri, garba. But it's lot more fun in India. You can't replace the Indian feel.
We like being Indian American in the US, but being Indian in India is different. When you come to India, you experience the authentic culture, which is completely different.
What do you feel about traditional Indian attire?
Poonam: We love Indian clothes. We don't have many occasions to wear them -- to temples, annual and community functions. You feel like a princess. Our mom is addicted to shopping and shops online for Indian (outfits). Both of us like wearing lehengas; it's easy to move around.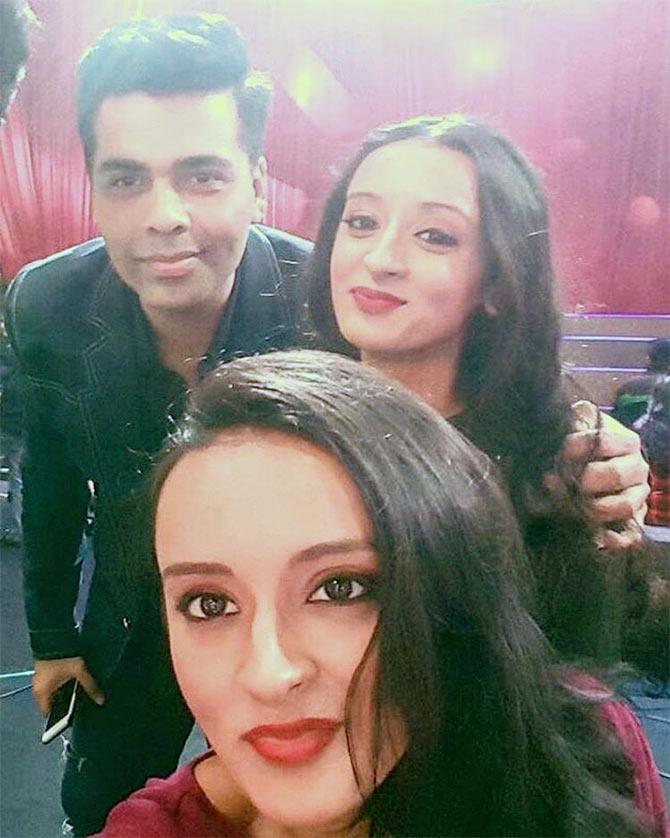 IMAGE: Poonam and Priyanka Shah take a selfie with Karan Johar. Photograph: Poonam and Priyanka/Instagram.
How did you feel after meeting the judges, especially Karan Johar?
Poonam and Priyanka: It's surreal to know that they know us. They comment on your dances and talk to you. All of them were awesome.
Jacqueline Fernandez said she is a fan of our dances. That was like: Wow. She used our video as a reference video for one of her dances. We were taken aback. But she didn't tell us for which song she used it. That's the power of social media once again.
Karan said he was blown away by our first performance and had never seen anything like it before. They all were nice. We were touched.
Poonam: Our Bharatanayatm teacher (Mohana) was a huge fan of Bollywood too. We danced on Madhuri Dixit and other songs too... Actually we learnt this broken Hindi from watching Hindi films...
Priyanka: We love Karan Johar movies. We must have watched Kabhi Khushi Kabhie Gham 30 times.
Poonam: (Agreeing) 30 times.
Priyanka: It's one of our favourite movies. Our favourite actors are Ranbir Kapoor and Shah Rukh Khan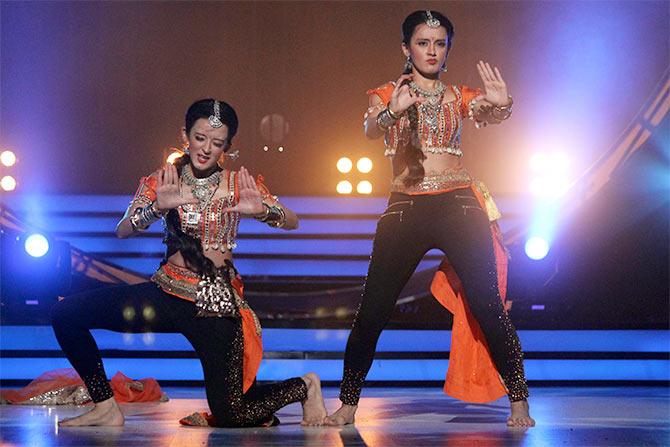 IMAGE: Poonam and Priyanka Shah on Jhalak Dikhhla Jaa 9.
How did you come up with the idea of a fusion between Bharata Natyam and hip hop?
Poonam: If you are Indo-American, you are influenced by the best of both. It's a natural thing to incorporate something else to it. Even our dance teacher Mohana choreographed Bharata Natyam on Pirates Of The Caribbean soundtrack. You wouldn't even think of that. She was very creative and it turned out very well.
At an early age, we were introduced to fusion; it was part of our lives.
Priyanka: In college we fused a lot of different styles. But not with Bharata Nataym... Two years back, we had done Bharata Natyam dances to techno music.
Out of college we thought it would be cool to juxtapose Indian classical dance movements with hip-hop struts. When we heard a cool mix, we would make a quick video for our FB page, just for fun. We never imagined it would go viral.
Poonam: In India, you learn the Indian style. It's surprising nobody wants to evolve from the Indian style. People just think western styles are coolest... I think they have that perception that Western is better than India. People here think copying is better than being original. In America, originality is much priced. I think there are many original brilliant dancers here too. They are not encouraged as much as they should be.