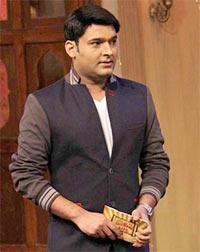 Kapil Sharma recently opted out of Yash Raj Films' Bank Chor and has said that the move has not created any bad blood.
"Ashish Patil of Yash Raj and I agreed that it was not possible for me to accommodate their film in my schedule," he says. "There was no bitterness at all. I've repeatedly said my show Comedy Nights With Kapil is my top priority. There was no way I could do the film and fulfill my duties towards the show."
Kapil doesn't rule out a feature film in the near future. "I will find a way of balancing my show with a feature film. When that happens, I'll happily do a film. Until then, I am happy being on my show."
Kapil has recently shot episodes with Virat Kohli and the Pathan brothers -- Yusuf and Irfan. Calling Virat 'endearing' Kapil reveals, "Everyone invited on the show wanted to know when Virat would get married."
Recently, Kapil Sharma was stunned by a report accusing him of misbehaving with his crew and guests on his comedy show.
"When I read the report, I wondered if they are really talking about me," he says. "They said I misbehave with my team members and that I was rude to the visitors on the sets. First of all, I'd never raise my voice at my team members. They are the people who make the show what it is. They are my support system. As for the guests, I don't know who are invited, so there's no question of discriminating between so called VIPs and non-VIPs. To me, all the guests are important. I've no clue who clicks pictures with me. I try to accommodate everyone's demands."