'To make paneer from milk, you need to add a good measure of sourness.'
'Both criticism and affection are a part of our lives.'
Kapil Sharma shares his life lessons.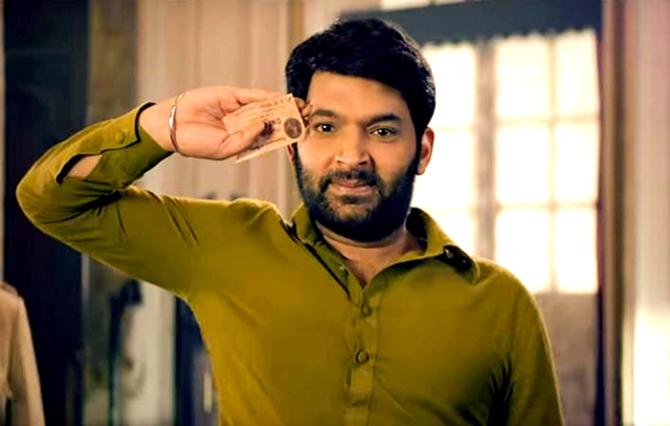 IMAGE: Kapil Sharma in Firangi.
It is past midnight when Rediff.com's Prasanna D Zore catches up with Kapil Sharma who is promoting his second film Firangi at breakneck speed.
Prasanna was asked to reach the venue at 6.30 pm, but discovers Kapil surrounded by cameramen, sound recordists and technicians.
Other journalists are also waiting to interview the television comic star who successfully helmed Comedy Nights With Kapil and later The Kapil Sharma Show for years before taking a break earlier this year.
Kapil -- who was rumoured to be battling alcohol addiction for which he reportedly checked into rehab in Bengaluru (which he denies in the interview) -- is making a valiant effort to resurrect his showbiz career.
When Prasanna's turn finally arrived. Kapil is full of energy and raring to field every question aimed at him -- be it on Firangi or alcoholism, movies or Modi -- with his trademark humour and million watt smile.
How important is Firangi for your career?
When you begin a project, you obviously expect that people will like it.
Going by the response to the trailer, I can only expect the film to do well. I hope people will appreciate our hard work.
Like any other important project I undertake, Firangi is an important film.
SEE: Why Kapil Sharma loves to kick ass! Video: Prasanna D Zore/Rediff.com
What is the film about?
It's a love story that takes place in the past, almost 100 years ago. Those were the times when not only (did) love marriages (not happen), but even when people got married with the consent of their parents, they did not get to see each other (before marriage).
It's a very innocent love story. The boy (Manga, played by Kapil Sharma) falls in love with this girl (Sargi, played by Ishita Dutta), whom he meets at a friend's wedding.
It's love at first sight and the boy keeps visiting the girl's village to see her.
Since they can't meet, given the reality of the 1920s, he only looks at Sargi from a distance.
Firangi, you can say, is a very raw, very organic, love story; just like you would see in the films made in this period.
Before their love story can progress, they begin facing problems.
Since Manga is unemployed, he doesn't dare approach Sargi's parents.
When he starts working, his parents meet them with his proposal. But Sargi's grandfather opposes the marriage because Manga happens to join the British police and the grandfather is a Gandhian freedom fighter.
Manga, who hails from a poor family, can neither accept that his marriage is at stake because of his job nor quit his job because he has to earn enough money for his sisters' weddings.
The story then is all about how Manga tries to impress Sargi's grandfather and how, in this process, a stage comes when he forgets his love and becomes a patriot who fights for the country's independence against British rule.
There are numerous turns and twists before Manga weds Sargi.
I am sure people will enjoy watching their love story.
Don't go just by Firangi's trailer; there is much more to the film.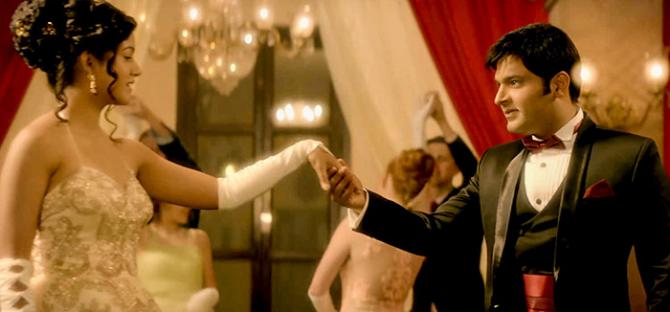 IMAGE: Kapil with Ishita Dutta in Firangi.
What's so attractive about Sargi that Manga falls in love at first sight?
The way she innocently drapes her dupatta over her head, as you will often see heroines of period films do.
Her innocence, her sharm-o-haya (coyness), the way she weighs every word she says, her beauty and simplicity has Manga spellbound and he falls deeply in love with her.
Was it tough getting out of television mode to make a feature film?
It was indeed very tough.
Handling both TV and films is tough, especially when you are travelling most of the time between cities and interior towns. You get tired.
Even though I love travelling, it is very difficult.
But when your hard work starts bearing fruit, you forget all your trials and travails and feel good about your work.
I enjoyed the continuous flip-flop between TV and film-making.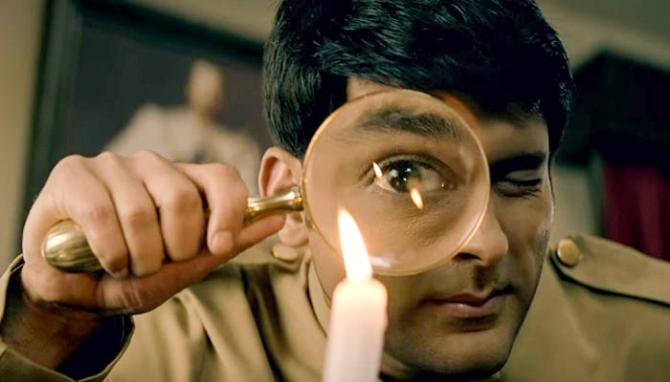 IMAGE: Kapil in Firangi.
How tough is a superstar's life?
I am not a superstar. My perception is different.
People approach the superstars of our film industry very nervously when they want to request a photograph.
But when they (the fans) see me, they just grab hold of my arms. They do this because they genuinely feel I am just like them.
You cannot label this love and affection that I get from people as 'superstardom'. It just reflects their love for me.
I feel wonderful and overwhelmed by people's love.
But every star pays a price for stardom.
You must have seen these side effects in the recent past while reading newspapers.
Even when we sneeze, it gets sensationalised and the media gives different spins to our sneezes!
If I sneeze behind my hands, people will write that I sneezed on somebody's face.
The side effects are mostly an exaggeration of the normal events in our lives.
But then, actors should be prepared to face criticism and negativity because the love and affection they get is equally huge.
The level of our criticism will be as high as the love and affection we get from people.
Did you feel bad when The Kapil Sharma Show was pulled off air?
Yes. But since it was my decision, there are no regrets.
The reason was that I had so many issues with my health.
Once I am healthy again, I will keep making shows... and they'll be better that those you have seen so far.
In order to make paneer from milk, you need to add a good measure of sourness.
Both criticism and affection are a part of our lives.
But there cannot be any compromise with one's health and well being.
Let me become healthy again and you'll see my comeback.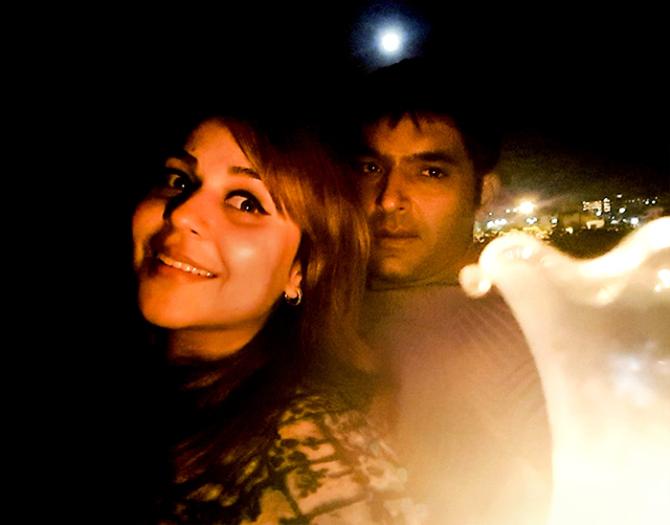 IMAGE: Kapil with Ginni. Photograph: Kind courtesy Kapil Sharma/Instagram
Like you met Sargi in reel life, have you met a Sargi in real life?
Ginni is in my life. She is so innocent. She has no connection with the film industry.
You often find innocent girls like her in Punjab.
You have such immense energy. You look like a man possessed. What is the secret?
(Jokes) I go the bathroom whenever I feel tired!
The love and blessings of the people keep me going.
I feel motivated when I meet people like you who enthusiastically ask me questions even at midnight so that my voice reaches your readers and my audience.
It is because of their love and blessings that Kapil Sharma is Kapil Sharma.
This is what gives me so much energy.
A lot of time has passed since you posted a controversial tweet and then said on Koffee With Karan: 'Don't drink and drive. And don't drink and tweet'.
The one that was addressed to Modiji, na?
The way I did it may have been inappropriate, but you can't fault my intention.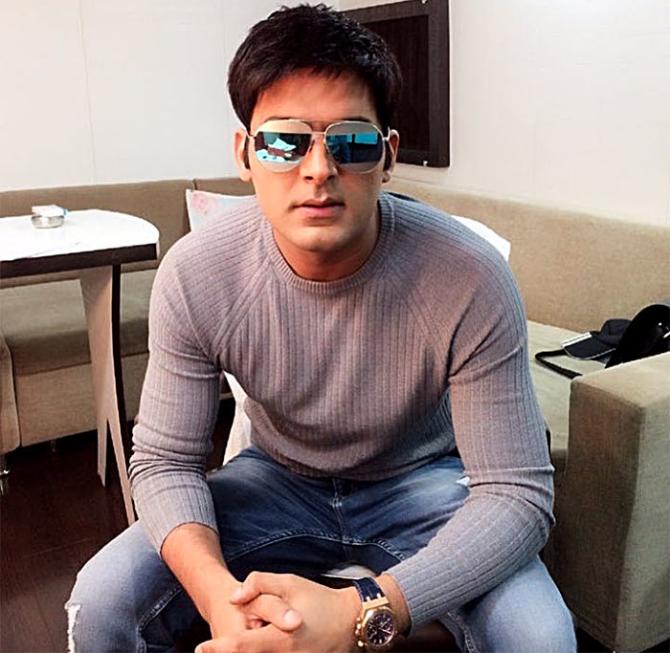 Photograph: Kind courtesy Kapil Sharma/Instagram
You went into rehab for your alcohol addiction...
(Interrupts) Look, this is exactly the problem, the side effects that I was talking about. You people write whatever...
I have never been to any rehab programme ever.
I was at Ayurveda Gram in Bangalore. My health had failed because I had lost my appetite.
I undertook Ayurvedic massages and medicines for strengthening the body.
What advice would you like to give India's youth about alcohol and drug addiction?
Sometimes, we get lured by shortcuts (to our problems) because of too much pressure... too many thoughts that cross your mind. And then, we think a little alcohol can solve our problems.
But alcohol never solves problems.
You may feel elevated and good temporarily, but you will face the long-term consequences of addiction.
I would humbly request everyone to not drink alcohol even for fun's sake. You will never realise how soon this 'fun' takes on a monstrous shape and you get addicted to it.