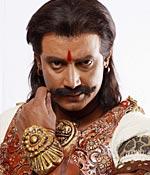 Kannada actor Darshan has not had a good outing on the silver screen for a while now. But never the man to mull over the fate of his films, the actor has now immersed himself in the shooting of his next film.

Darshan, who had limited himself to popular roles after his fans didn't respond favourably to his experimental ventures like Nanna Preethiya Ramu, is yet again taking the path less travelled. He is playing the lead in Sangolli Rayanna, a period film.

Rayanna was the chief of army in Kittur queen, Chennama's army. Chennama, with the help of the brave Rayanna resisted the British when they tried to take control of her kingdom by putting forward the Doctrine of Lapse rule as she had an adopted son.

Veteran actress Jayapradha plays the role of Chenamma while Darshan plays Rayanna.

There is so much hype surrounding the film that trade pundits have predicted that it may pave way for more period films, the fate of Gandugali Kumararama starring Shivarajkumar notwithstanding.

The film unit recently got back from Jaipur where they shot two war scenes. Cameraman Ramesh Babu has used seven hi-tech cameras including a helicam to shoot these scenes. Apart from artistes from Hyderabad, Bangalore and Mumbai, over 100 horses and 40 elephants have been used in the sequences.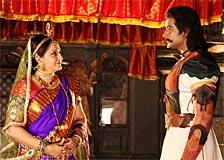 The action scenes are choreographed by Ravi Verma. To attend to the artistes and animals in case of mishaps, there were physicians and veterinarians on the set.

Shooting for the war sequences alone is said to have cost producer Anand Appugol a whopping Rs 25 lakh a day. While the war sequences are ready, the part where Rayanna uses guerrilla tactics to fight the British remains to be filmed.

Scenes between Rayanna and queen Chenamma have also been shot in a palace. Darshan was also given a standing ovation after a particular scene in which he assures the queen's subject of victory against the British. The actor had turned up dressed as Rayanna at the recently held World Kannada Meet.
After returning from Jaipur, the team has now headed to Mysore. Their next destination is Belguam. 
Yashovardhan has composed the music and lyrics are by Keshavaditya. Devotional and patriotic songs are part of the album. The star cast of the film includes Nikitha, Shashikumar, Srenivasamurthy, Shobraj, Umashree, Doddanna, Saurav, Biradar, Ramesh Bhat and C R Simha among others.